Cornichons: Small and crisp, sour and French. They transform a baguette into a picnic, a plate into a party. They can elevate a tuna sandwich from the mundane to the artisanal in a trice. These petite, pickled cucumbers, preserved whole, have a distinctive crunch. In bistros and on French-inspired lunch breaks, cornichons are a classic accompaniment to patés, terrines, charcuterie, and rillettes. (And across the culinary channel, they have an English twin, the diminutive and acerbic gherkin, an essential partner for sharp cheese, whether stuffed into a cheddar sandwich are tossed atop a ploughperson's platter in a pub). Ready-made cornichons are easy to buy, of course, but they are satisfying to make, to be enjoyed minus the preservatives.
Read on for my cornichon recipe, and a tip to keep cucumber pickles crisp.
Photography by Marie Viljoen.
Cornichons are different from other cucumber pickles in that they are preserved whole when very small. The smaller, the better. The brine for cornichons is usually white wine vinegar-based. By contrast, a classic New York-style deli pickle, for example, will probably have been lacto-fermented, and is chubby. Bread and butter pickles are sliced before being brined, and dill pickles, well…there's the dill. There are as many cucumber pickle techniques as there are pickle eaters, and we're not choosing sides or favorites. But cornichons are undeniably cute.
Until relatively recently, it was impossible to find store-bought fresh, baby cucumbers (at least, in the US). That is changing. Sunset Qukes™ seem to have taken produce aisles by storm. Brighthouse Organics and NatureSweet's mini cucumbers might be sold at a supermarket near you. They are described as "ideal for dipping" and or "great for small hands." Fine. But pickling potential? That's exciting.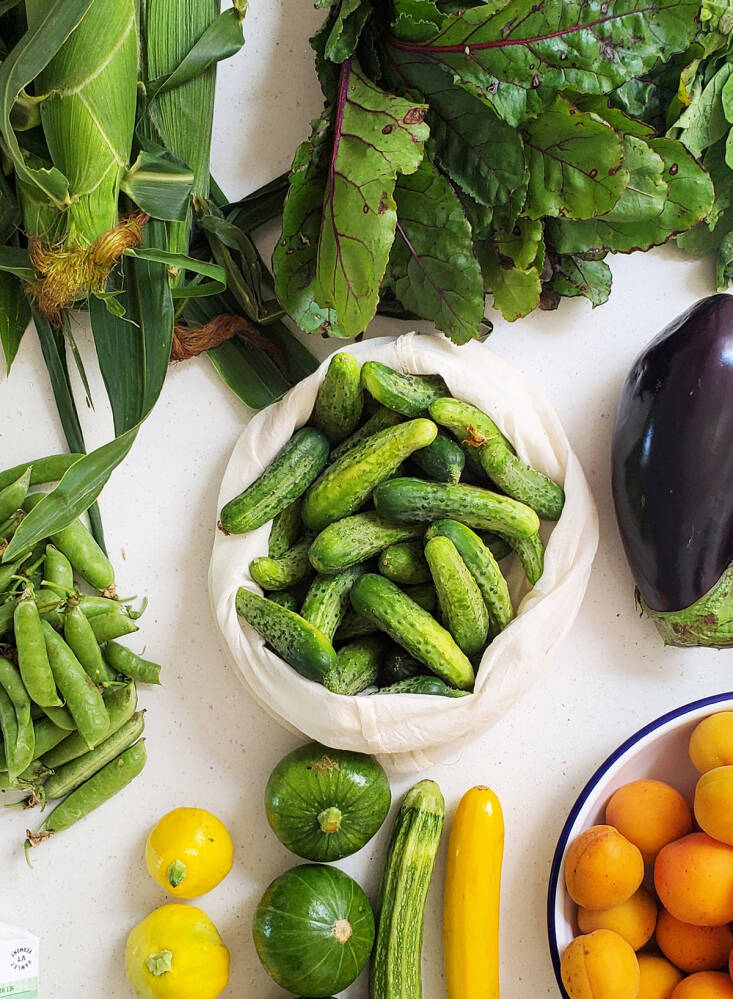 My own cornichon-making journey began locally, one hot July day at the Grand Army Plaza greenmarket in Brooklyn, where Willow Wisp Organic Farm, a New York grower, sells impeccable produce. Their irresistible, not-inexpensive baby cucumbers inspired me to pounce, which in turn required a method to preserve them, whole, without ruining my investment or their very good looks.
My previous whole-cucumber pickle attempts had resulted in flabby pickles. I didn't want a repeat. Another farmers market shopper advised me to trim off the cucumbers' blossom ends, where pickle-softening enzymes are alleged to reside. Online sleuthing corroborated her advice and also suggested a salt-rub, to help keep the pickles crisp. I did both, and added a pre-soak to restore the little cumbers to freshness after hot hours in the baking market-tent. The result? Perfect cornichons. Making them is now a summer ritual. Eating them is a quiet pleasure.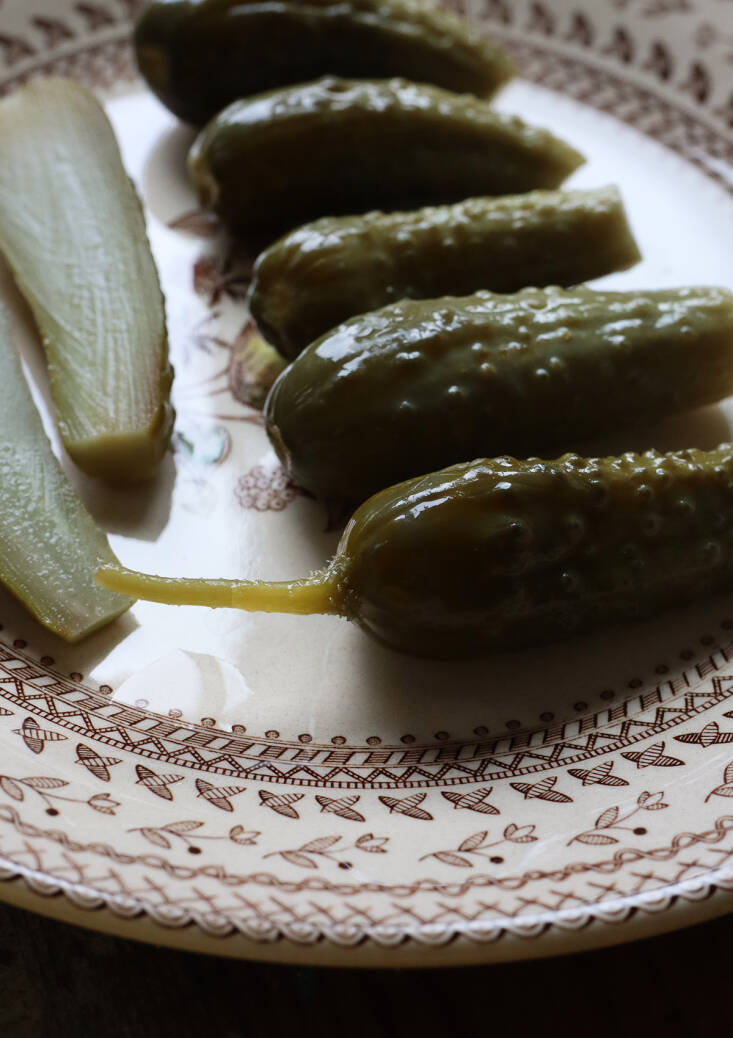 There are other methods for retaining crunch (including the appealing addition of fresh, tannin-providing grape leaves), but since achieving this pickle perfection, I'm not deviating from that holy trinity (soak, trim, salt). I have tested the cornichons at one week, three months, one year, and two years. Firm. Tart. Silkily sliceable.