November 16, 2023
Last night I headed downtown to Waller Creek to see this year's Creek Show, an annual exhibition of light-art installations, put on by Waterloo Greenway. While the event is free, let me tell you, it's worth it to pay $10 for a fast pass that allows you to skip the line to get in. When we arrived at 8:30 pm, that line stretched around the block and was hardly moving.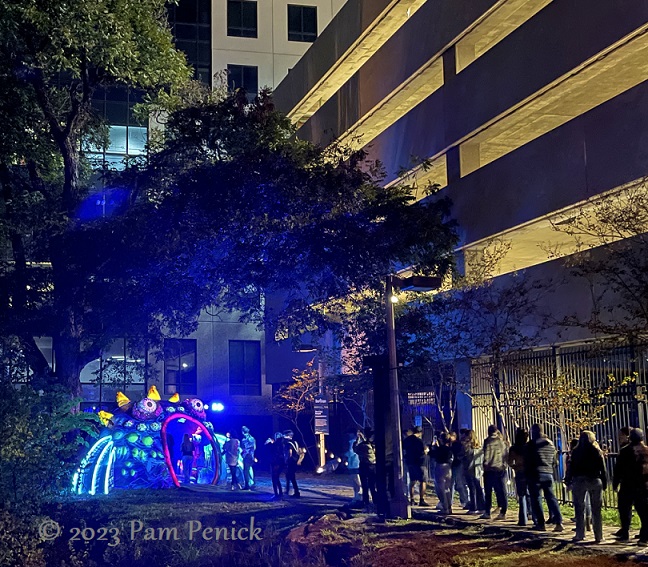 The first thing you see is Creek Show's official mascot, the Creek monster. You enter the trail through his gaping mouth.
The Creek Keeper

Created by Jake Rosenberg, Clayton Lillard, Mateo Gutierrez, Chris Haddad, Chandler Goen, and Liza Fishbone

Once upon a time, The Creek Keeper emerged from the depths of Waller Creek to protect its folklore and remind us of the vital connection between environment and culture.

A towering snapping turtle-like monster made from recycled materials, the installation invites us to explore the creek's unique identity and inspires us to take action in preserving our natural world. Join us on a journey of discovery and conservation, as we honor the stories of the past and light up the future of our planet.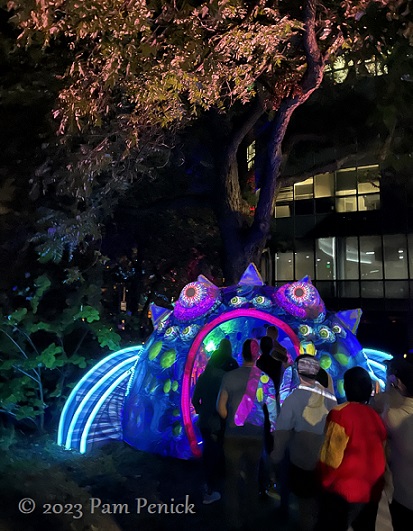 We were instructed not to stop inside the monster and to take only videos, not still photos, as we walked through, in order to keep the line moving. Perfectly understandable, although that means you really miss seeing the details as you're hustled through. Still, it was a fun entrance to the show.
Next up is Puzzle Grass, a curving line of glowing, color-changing posts planted in the middle of the flowing creek.
Puzzle Grass

Created by Barna Kantor, Kyle Evans, and Brandon Stargrave

Puzzle Grass (Equisetum) is a genus of plants considered "living fossils" as they predate the dinosaurs, yet examples can still be found today along Waller Creek. The tall plants, also called "horsetail," resemble miniature bamboo stalks and thrive wherever they are planted. We evoke the nodal anatomy of puzzle grass through an installation of light poles that light up in various temporal waves visualizing the Creek's flow. The installation stands in the midline and follows the natural curve of the Creek, both dividing and uniting the two banks.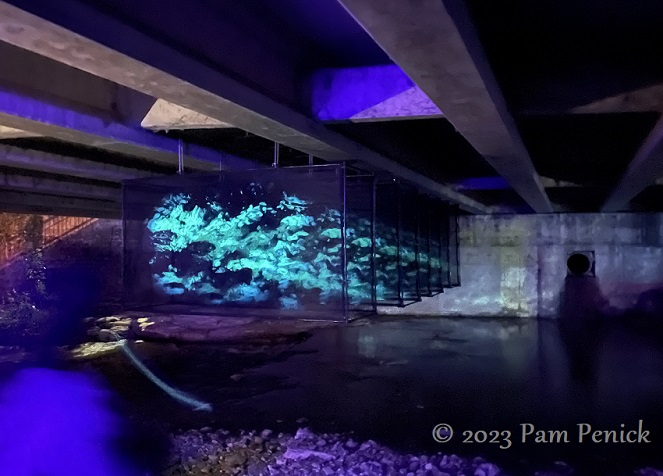 A video installation comes next, with echoing screens of flowing water hung under a bridge along the creek.
Melting Mirrors

Created by Topher Sipes and Jasna Boudard

Melting Mirrors is a multi-layered video installation, featuring digitally manipulated slow-motion video of the flow and movement of the water surface of Waller Creek.

The installation features multiple parallel screens of translucent fabric as staggered surfaces for the video content, allowing the projected light to pass through each layer to the next and simulating slices of a holographic cone for viewers as they pass by. This 3-dimensional experience facilitates viewing depth above and beneath the creek's surface through the interplay of water with light.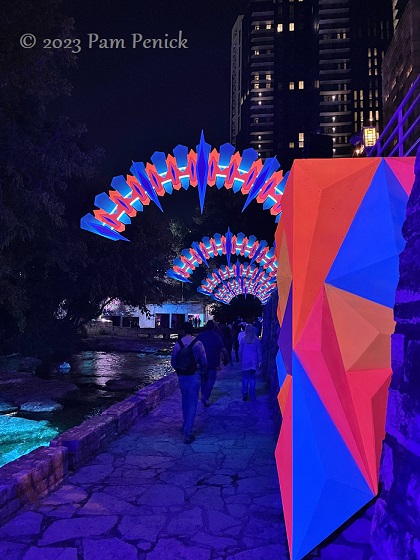 The 3-D, origami-like arches and wall hangings of Kaleidoscope Dreams reminds me of Austin paper artist Amanda Witucki's creations.
Kaleidoscope Dreams

Created by Ruben Esquivel, Heath Speakman, and Kat Talley

Kaleidoscope Dreams is an exploration of light and form, where UV-reactive archways create a dazzling display of illuminated diamonds, prisms, and colors. These radiant structures serve as pathways, inviting attendees to journey through an immersive spectacle. As you enter the installation, a cluster of glowing triangles extrudes from the wall, beckoning you to venture within. These luminous forms symbolize transformation and offer passage from one realm to another. They emphasize the profound power of art to transport us to new dimensions of understanding.

The installation explores the interplay of light, form, and imagination, where every visitor becomes an integral part of the narrative. It stands as a testament to the enduring power of art to evoke wonder, inspire contemplation, and forge connections within our vibrant community. Join us on this radiant journey as we embrace the beauty of Austin's natural and cultural tapestry, woven together by art, imagination, and the luminous glow of our shared experience.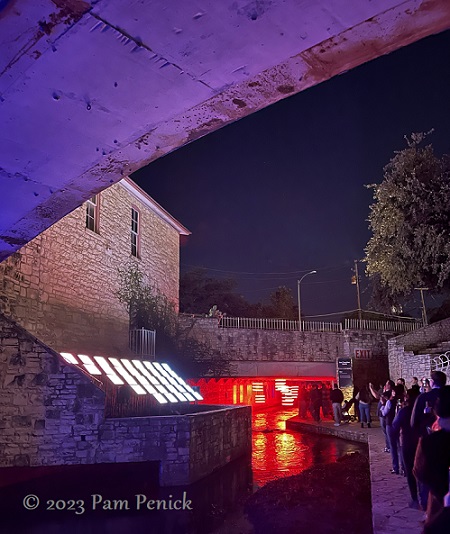 Crescendo, across from Symphony Square, was popular with the crowd, with panels of light changing color in time with piped-in music.
Crescendo

Created by Alex Martin and Max Hoffman

Crescendo represents the heartbeat of Austin and the Red River Cultural District—music.

The installation at Symphony Square is an array of repurposed sheet music stands with color-changing panels of light. Stop by for a song or two to enjoy an orchestrated light show!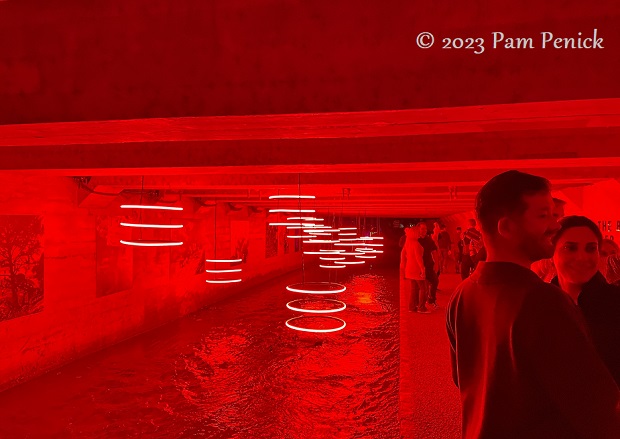 Riot caught my interest with its visuals about the Battle of Waller Creek in 1969, which I'd never heard of. Ghostly red columns symbolizing long-destroyed tree trunks are suspended over the creek. Along the tunnel wall hang photos of the student protesters, who tried to save the trees. Reading about it now, I'm moved by the efforts of architecture students at the University of Texas in 1969 to save heritage live oaks and the creek, while officials forcibly yanked students out of the trees and went ahead and bulldozed them. Here's an excerpt from The UT History Corner:
"By Thursday, the 'Battle of Waller Creek' was front page news across the state, covered from Los Angeles to New York, and images of students being forcibly removed from trees were published in newspapers as far away as Paris, France. Its effect was long lasting. Today, treasured live oaks on the campus are considered investments and relocated, rather than destroyed, when they sit in the path of campus construction. Waller Creek is also viewed as an asset, and efforts are underway, both on campus and through downtown Austin, to preserve the creek and take advantage of it architecturally."

https://jimnicar.com/2013/11/11/the-battle-of-waller-creek/
And here we are today, with Waterloo Greenway working to restore Waller Creek as a place for nature within a very paved part of the city, creating space for people and wildlife — and for trees.
Riot

Created by Maria Berrios and JuanRaymon Rubio

Riot is a memorial installation that showcases the Battle of Waller Creek and offers a reflection on the destruction of Austin's natural landscape. The design gives viewers insight into the history of the protest and also considers the aftermath of a notable political and environmental fight.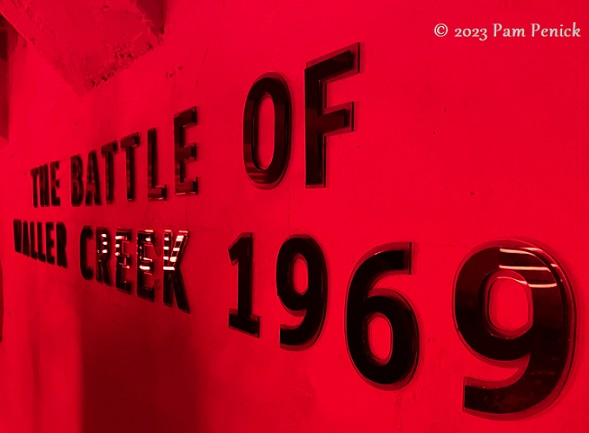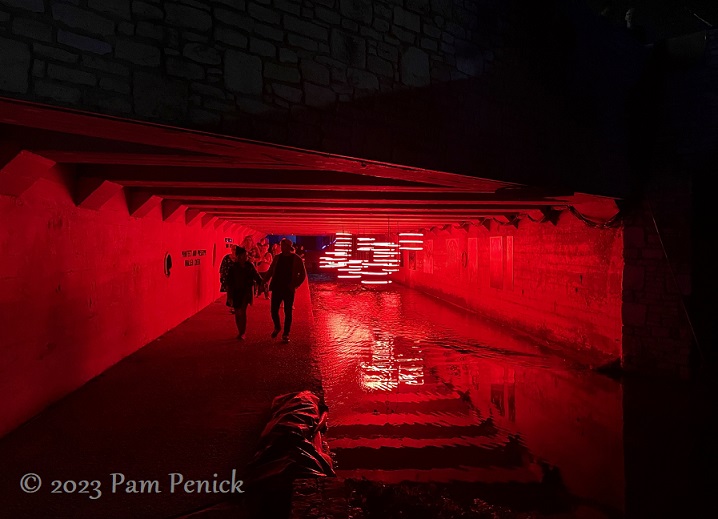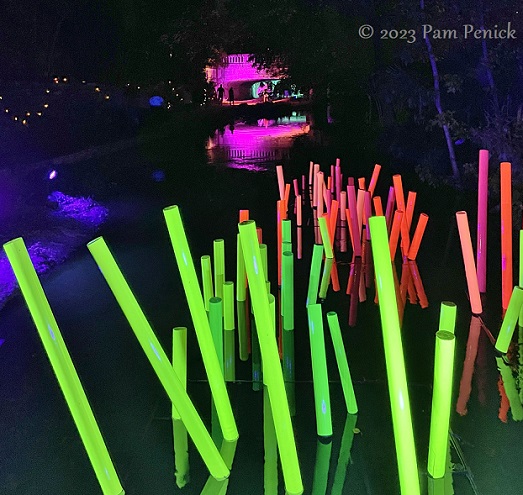 Into the Wild is next, a visually appealing display of fluorescent pool noodles poking up like Avatar-world reeds from the creek bed.
Into the Wild

Created by Nolan Stone and Ryan Blair

In a rapidly urbanizing world, our few remaining wild places exist in the form of urban creeks and greenbelts.

Into the Wild is a plea for wilder cities that highlights the life that still exists within. The flora and fauna that reside in these spaces have existed here long before humans and the resilient remainders were required to adapt to human development. Once the daylight wanes and the moonlight illuminates the water, the creek comes alive reminding us of what once was and what could be.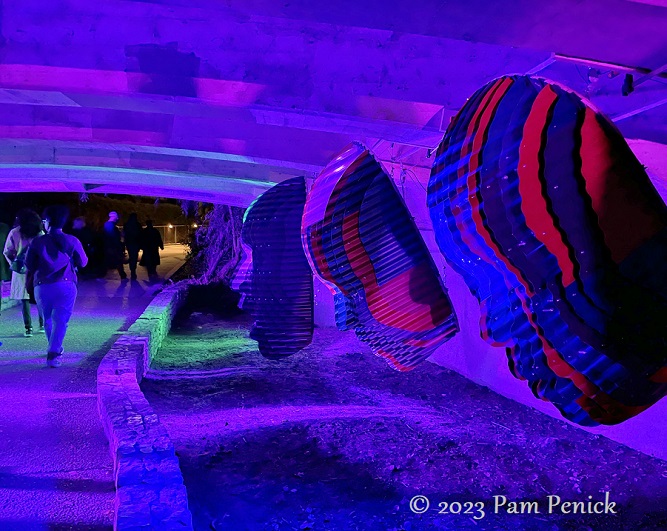 Last is Babble, which may have been my favorite for sheer weirdness. Gigantic, corrugated-metal faces hang from the underside of a bridge on both sides, with speakers projecting multiple voices speaking softly in different languages as you walk through. I found myself trying to identify languages or pick out phrases, but mostly it washes over you like the sounds of a crowded street.
Babble

Created by Lucas Greco and Reeve Hunter

Babble is a light-hearted contemplation of our changing perceptions of Waller Creek. Together, the sights and sounds of the installation call visitors to break from the bustle of busy lives and experience anew and up close the burbling waterways pulsing calmly through our city.

Three types of corrugated roofing panels, sharing a common form but contrasting in color and character, come together to form illuminated heads of extraordinary size from ordinary construction materials. Speakers are installed among the faces producing muttering sounds of voices and babbling fading in and out while contrasting tones and melodies intermingle in unique ways depending on the viewer's vantage point.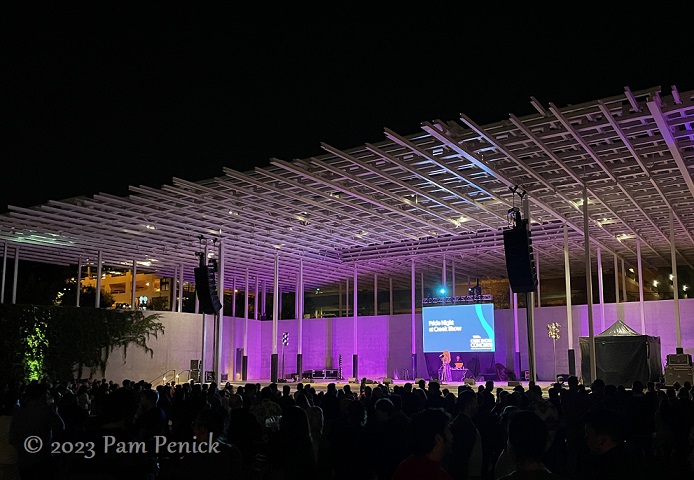 At the end, you emerge at street level, where officials encouraged us to go visit the amphitheater in Waterloo Park, where Pride Night performances were taking place. (Each night of Creek Show has a different theme for its live stage show.) Last year, Creek Show ended where you could walk straight into the amphitheater, delivering you directly to a laid-back party atmosphere of performances and vendors, with crowds sitting or standing on the lawn and kids playing. This year, we had to walk all the way around the park to enter from the uphill side on the east — all the while hearing the performances in the closed-off park and feeling like we just couldn't get there. And heaven help you if you need a bathroom break after Creek Show, as I didn't see any porta-potties, and you have to walk a long way and go through a slow security screening (new this year; sad but, I suppose, necessary) to get to the park's restrooms.
Once we got in, we did enjoy a few drag performances before calling it a night and heading back to our car.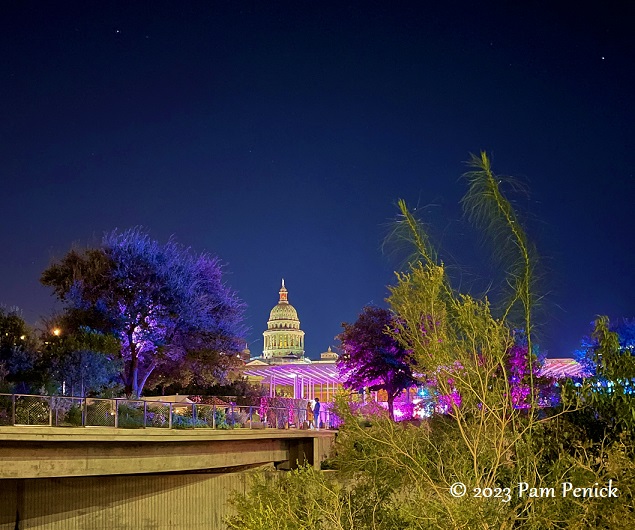 I snapped this view of the Texas Capitol dome and Waterloo Amphitheater's glowing shade structure as I left. Creek Show weirdness and art, efforts to build a city-enhancing string of parks along Waller Creek, the beautiful capitol building, people out enjoying music and community, and a deep appreciation for nature, all under the big Texas sky — this is what I love about Austin.
Creek Show runs through Saturday, from 6 to 10 pm. It's a free event, and you can walk in, but the line can be very long. I suggest you do what I did and get yourself a fast-pass ticket for $10. All proceeds benefit Waterloo Greenway, "a local nonprofit whose mission is to create and maintain a new 35-acre urban park system in partnership with the City of Austin." 
I welcome your comments. Please scroll to the end of this post to leave one. If you're reading in an email, click here to visit Digging and find the comment box at the end of each post. And hey, did someone forward this email to you, and you want to subscribe? Click here to get Digging delivered directly to your inbox!
__________________________
Digging Deeper
Hey, Austin-area gardeners! Want to learn about growing a biodiverse hedge for screening your yard, adding wildlife habitat, and making a more ecological choice than a fence? Register for my next Garden Spark talk with Shaney Clemmons on December 7th at 7 pm. Come get ideas for what to plant that'll withstand our Central Texas weather extremes. Plus it's fun to hang out with fellow gardeners under the big live oak and string lights at beautiful Barton Springs Nursery! Hope to see you there!
Come learn about garden design from the experts at Garden Spark! I organize in-person talks by inspiring designers, landscape architects, and authors a few times a year in Austin. These are limited-attendance events that sell out quickly, so join the Garden Spark email list to be notified in advance; simply click this link and ask to be added. The Season 7 lineup can be found here.
All material © 2023 by Pam Penick for Digging. Unauthorized reproduction prohibited.