February 05, 2019
How many times have you seen a tree trunk that looks like this? It looks nice and neat, right? The trunk is tidily surrounded by mulch that's layered right up against the bark. Maybe under that mulch there's also a layer of soil added when sod was laid or other plants were planted around the tree.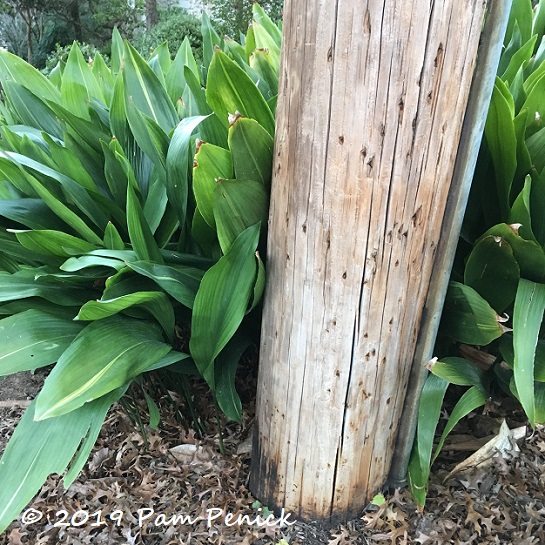 It bears a striking resemblance to a telephone pole, a straight post rising from the soil.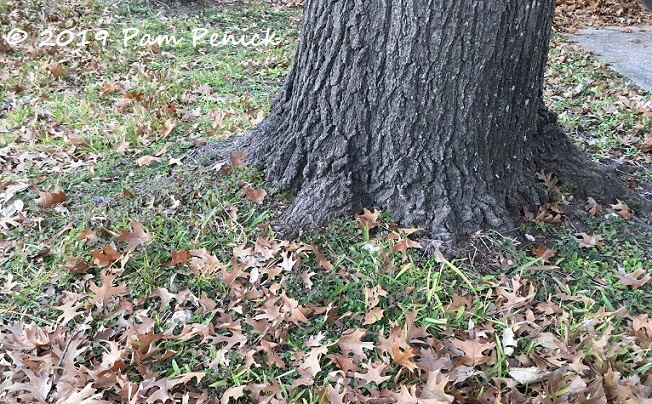 Unfortunately, that's not what a healthy tree trunk looks like. A healthy mature tree has a visible skirt of roots called the root flare, like the tree pictured above. (Not all trees flare so obviously, but most do.)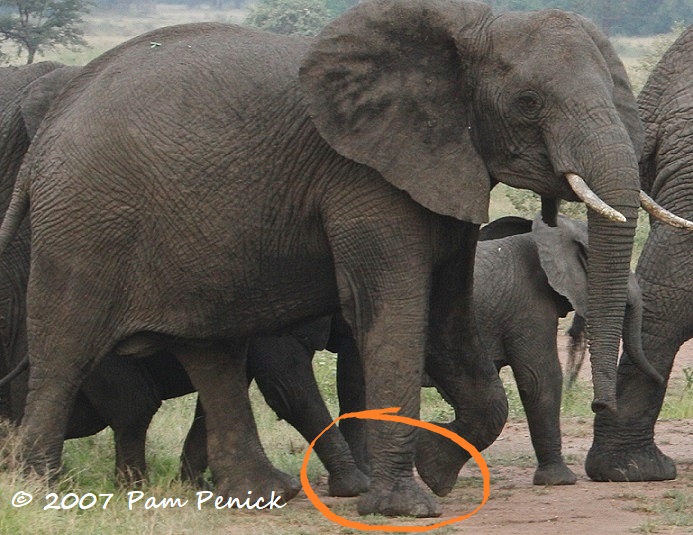 The trunk should resemble an elephant's foot, not a telephone pole.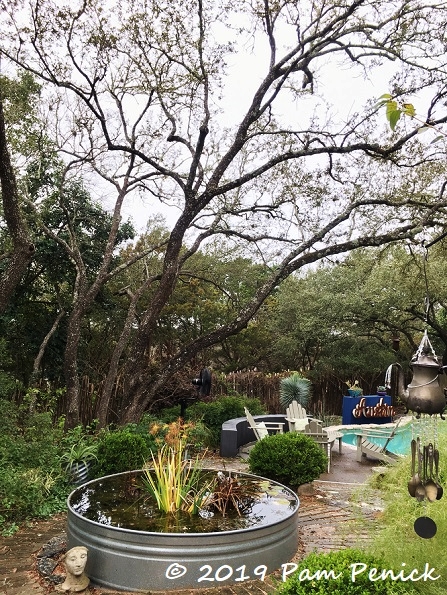 Yesterday I shared pictures of two mature live oaks in my garden that were dying, which we had to remove, losing shade, beauty, and, yes, money I'd rather have spent on other things.
Why were they dying?
The trees were suffocating. Their trunks looked more like telephone poles than elephants' feet, and I hadn't noticed. But it was worse than just mulch piled up on the root flare. After all, I knew better than to do that, and I'd worked hard to make a healthy garden without harming the trees over the past decade. No, this problem was deeper than could be seen.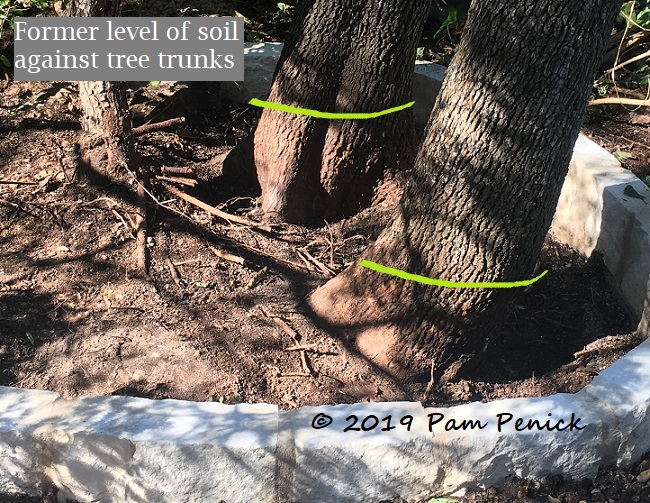 Our arborist suspected that the trees were not getting enough oxygen through their shallow surface roots, and he advised excavating the soil around the trunks to see what was going on. What we discovered shocked me. The tree trunks were buried nearly a foot deep in soil — soil that I suspect was brought in to level the sloping back yard, perhaps 15 years ago when the pool was installed. They were also being choked by long-buried landscape fabric that had been laid atop their root zone.
The trees soldiered on for more than a decade (that's how long we've been here), even as they struggled to breathe under all that soil. Desperate for air, the trees were forming a dense mass of girdling roots around their trunks. As I gardened around them, I didn't know what was happening. Not until it was too late.
Making a tree well
Anxiously, I had the other trees in that part of the yard excavated too. Again, we found 8 to 12 inches of soil layered on top of their root flares (see photo above) but no evidence of girdling roots or rot. These trees could be saved, our arborist advised, by removing the excess soil to expose the flare and constructing a tree well to hold back surrounding soil, preventing it from settling back over the roots. (Several roots of an adjacent evergreen sumac were severed during the excavation. I dearly hope it will survive too.)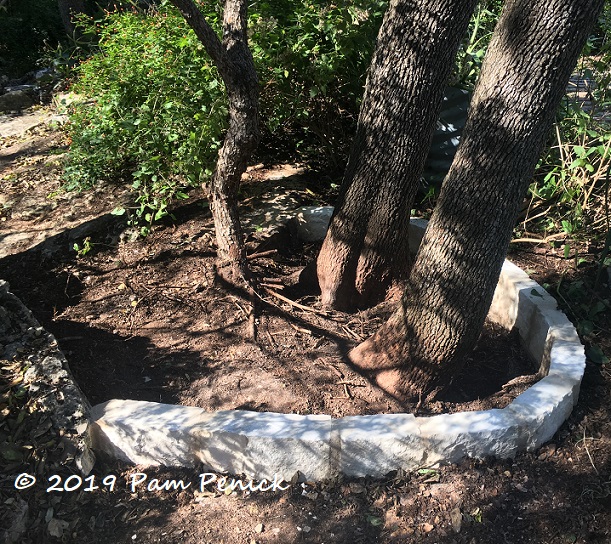 A tree well is a protected space around the base of a tree. Ideally it should be generously proportioned, especially for mature trees. But our arborist says even a modest diameter around a tree's root flare improves air flow. I had a landscaper mortar a half-circle of stacked limestone blocks around the trunks to keep soil on the higher side from washing into the well. I'll spread a thin layer of coarse wood mulch or gravel in the well to keep it from turning into a mud pit when it rains, with the mulch pulled away from the trunks. No volcano mulching, for sure!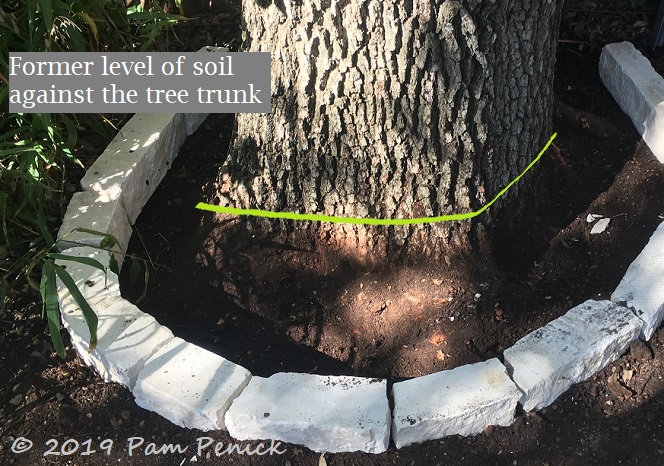 I'm slowing excavating other trees that look more like telephone poles than elephants' feet. Only in that one area does it appear that soil was added to level the yard, burying several trees in the process. But even so, my arborist has pointed out other trees that I believed had sufficient flare, and advised excavating them some more. The tree pictured above had about 6 inches of soil and compacted mulch over its root flare.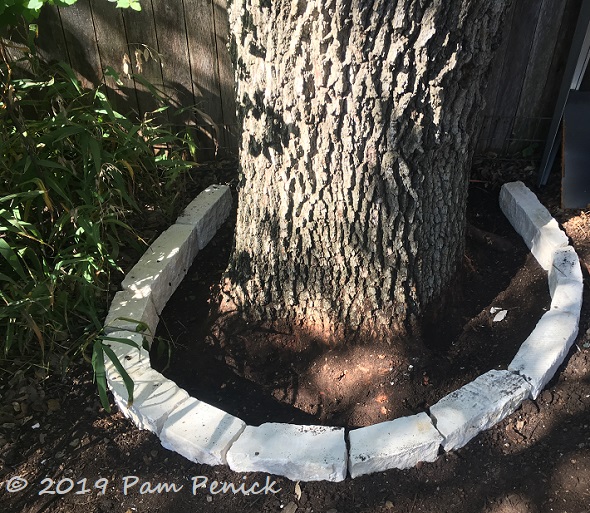 Because this tree is next to a pathway, the protective tree well is smaller than I'd prefer. But it's better than it was.
Keep it simple, keep it low
Not every tree requires a stone edge to protect the tree well. Most of mine just need a couple of inches of soil and built-up mulch scraped away from the base of the trunk. Maintenance involves not spreading mulch up against the trunks in the future and making sure landscaping crews know not to do that too.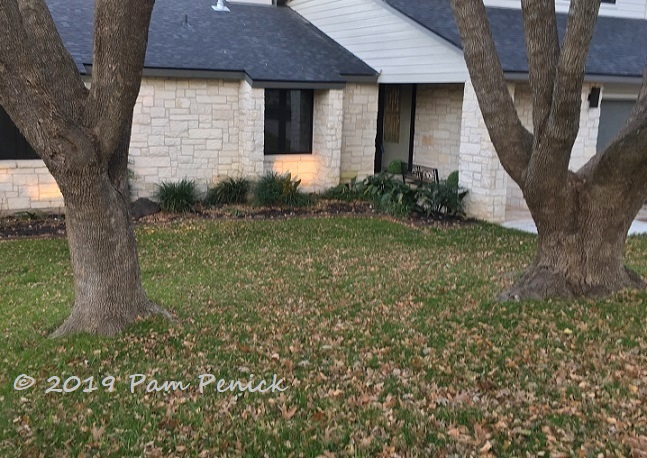 Here's a pair of healthy root flares I spotted on a stroll around the block. Nothing fancy here. Just a natural flare, with no excavation or stonework required. My arborist prefers thirsty turf grass be removed from the base of a tree, replaced by a thin, coarse layer of mulch spread under the dripline of the tree's canopy. But the key is making sure that flare is getting air!
By the way, I highly recommend my arborist, Vincent Debrock of Heritage Tree Care. His company takes care of trees on the Hike-and-Bike Trail and at the Texas Capitol, and he gives time and thoughtful consideration to much smaller projects like mine as well. I'm getting no discount for my recommendation, by the way. I just think Vincent knows and cares about trees.
Now, check on your tree flares this spring. Make sure they're not suffocating from any gardening you've done or previous owners may have done. The damage going on below-ground can take decades to show above-ground.
I welcome your comments. Please scroll to the end of this post to leave one. If you're reading in an email, click here to visit Digging and find the comment box at the end of each post. And hey, did someone forward this email to you, and you want to subscribe? Click here to get Digging delivered directly to your inbox!
__________________________
Digging Deeper
Come learn about garden design from the experts at Garden Spark! I organize in-person talks by inspiring designers, landscape architects, and authors a few times a year in Austin. These are limited-attendance events that sell out quickly, so join the Garden Spark email list to be notified in advance; simply click this link and ask to be added. The Season 7 lineup can be found here.
All material © 2023 by Pam Penick for Digging. Unauthorized reproduction prohibited.