February 01, 2017

It's only taken us 8 years to install outdoor lighting along the foundation of our house, and now that it's done I'm wondering why on earth we waited so long. I love the warm, welcoming glow that a few wall-washing low-voltage lights creates.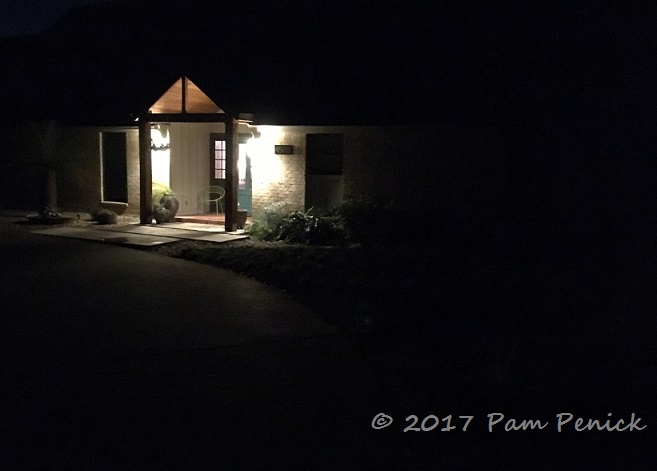 What a change from before, as seen here. Two boxy, contemporary sconces (our replacement for too-small, traditional porch lights that we inherited) on either side of the porch nicely illuminate the doorway. But without additional lighting, the porch appears to float in pitch darkness — not very welcoming.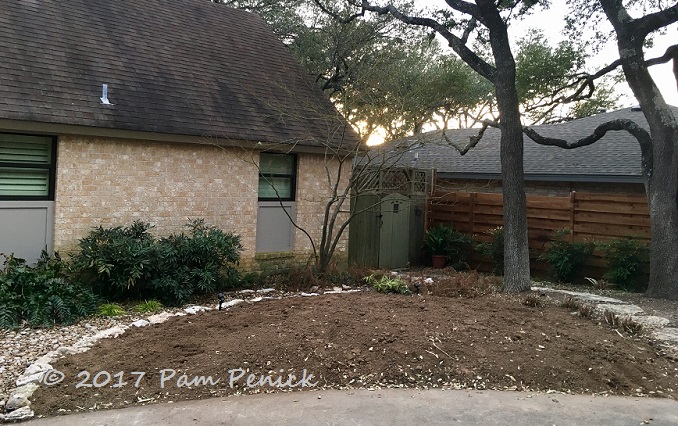 When we lost a tree this winter and I tore out the last patch of turf where it had stood, I decided it was now or never.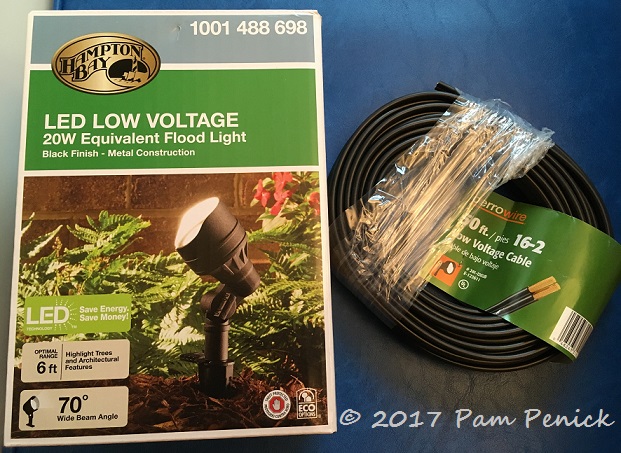 We bought 4 LED low-voltage flood lights from Hampton Bay at a local Home Depot. I considered wall wash lights, but I'd used floods at our previous house and thought they had a little more flexibility. We like that the fixtures are metal, not plastic, and we wanted LEDs to save energy and avoid the regular bulb changing required for traditional incandescent fixtures. LED lights are more expensive, but we hope it'll pay off in the long run.
We also bought low-voltage cable to hook up the lights. Confusingly, there were two sizes of cable for sale, and the Hampton Bay box didn't specify which size I needed. So I asked a Home Depot employee for help, and they looked up the lighting specs online and told me which size I needed.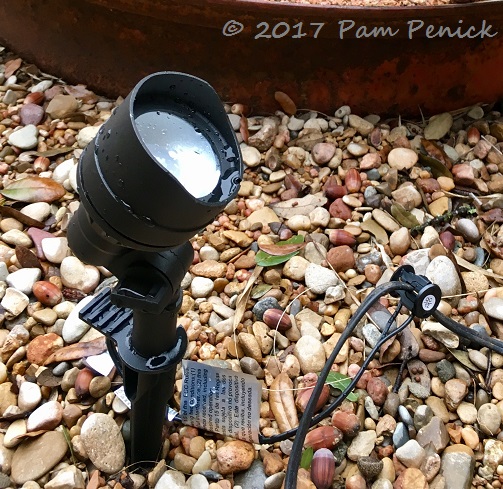 Lay out your lights to decide how you want to position them.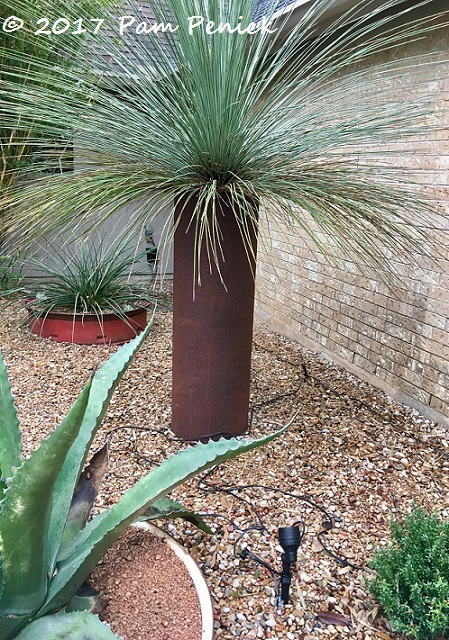 Our ranch home's facade is asymmetrical, and we decided one light would be enough on the left side.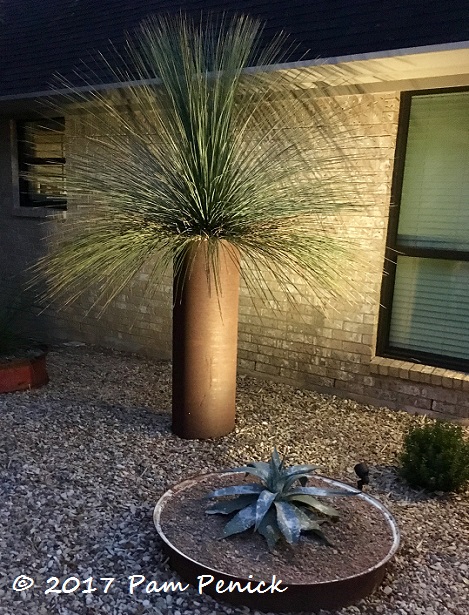 We opted to highlight a sotol in a steel planter for nighttime drama, but we soon found it needed to be lit from the side, not head-on. Otherwise we had a big, pipe-shaped shadow on the front of the house.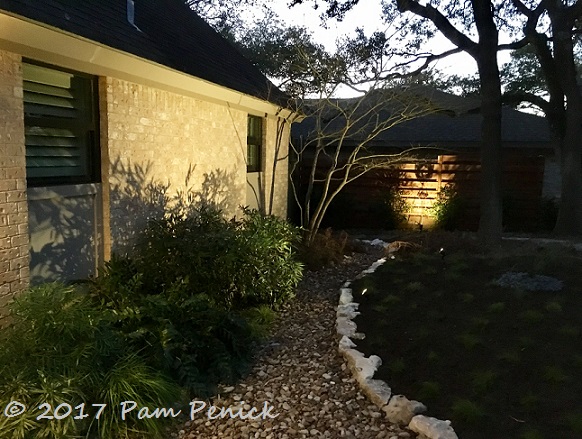 The right side of our house is longer, so we placed two lights over there, one washing across the Chinese mahonias in the center of the foundation bed (between the windows) and the other highlighting the Japanese maple at the corner of the house. We added another light along the side-yard fence to highlight a piece of garden art and brighten a side path.
Run the low-voltage cable from the outlet where you'll plug in your transformer to each light, leaving a little slack at each light so you can move it around if needed.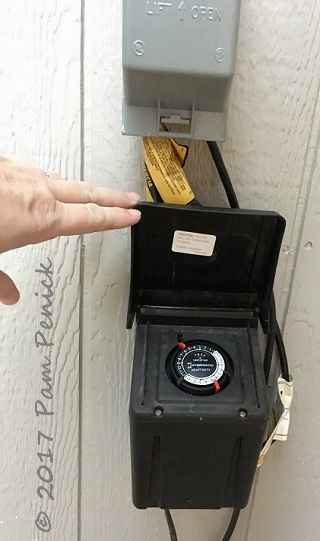 We already owned a transformer from our previous home's lighting, so we didn't need to buy one. Update Dec. 2018: Our transformer died earlier this year, so we had to replace it. We bought one that automatically turns on at dusk and off at sunrise. We love this feature because we don't have to think about changing the on/off times with the season anymore.
Your transformer must be able to handle the wattage of lights you're installing, so add up the wattage for all your lights and buy a transformer that can handle at least that amount. You may end up adding more lights (that's easy to do), so it doesn't hurt to buy a bigger transformer than you currently need. Of course LEDs use less wattage, allowing you to use a smaller transformer than if you choose incandescent lights.
Hook up the cable to the transformer by using wire strippers to remove about a half-inch of insulation from the two strands of wire at one end of the cable. Follow the instructions that come with your transformer to hook up one wire to the "A" terminal and the other wire to the "B" terminal.
Plug the transformer into a nearby outdoor electrical outlet and mount the transformer box on the wall. To hang it, screw a couple of screws to the wall, aligning them with pre-drilled holes on the back plate of the transformer box. If you don't have an outdoor electrical outlet in the right spot, hire an electrician to run a line from your house to the spot where you need it, and have an outdoor GFCI outlet box mounted on a post that's tall enough to support the transformer too. Make sure it's situated where it won't be an eyesore in your landscaping, but convenient to your lights.
A transformer with a timer allows you to set it to come on at dark every day and turn off at dawn, or in the wee hours if you prefer.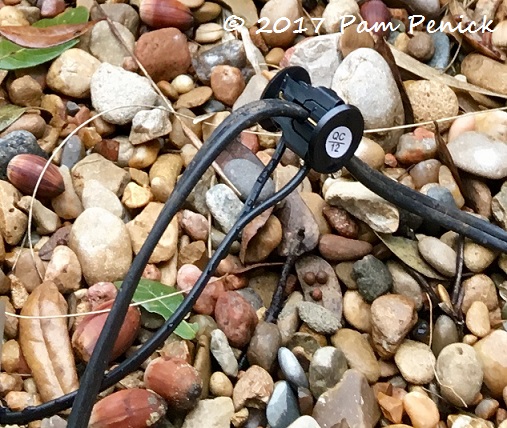 The lights have pinch-clips that bite into the cable. Once you're sure about where you want your lights to be, unplug the transformer and simply clip each light onto the cable. The low voltage means it's easy and safe to work with. When all your lights are hooked up and you've tested that they work by plugging in the transformer and turning them on, finish up by burying the cable a few inches deep, preferably along the house foundation or line of edging where you won't be likely to dig in the future. If you ever do accidentally cut the cable, you can repair it by stripping the wires of both cut pieces and reconnecting them with wire nuts and electrical tape.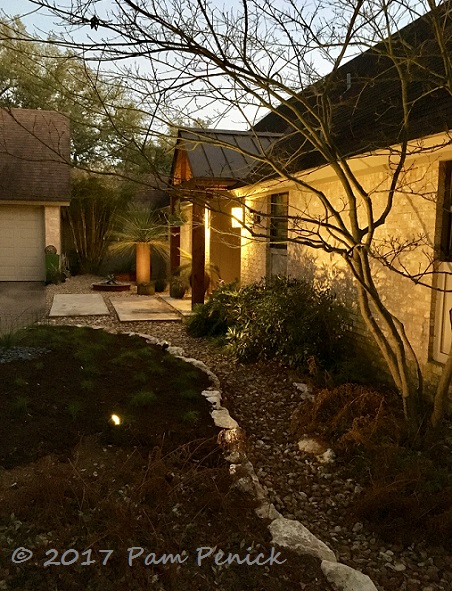 Press each light into the soil, being careful not to apply pressure to the head of the fixture, as that could damage the rotating joint that allows you to adjust the upward angle of the light.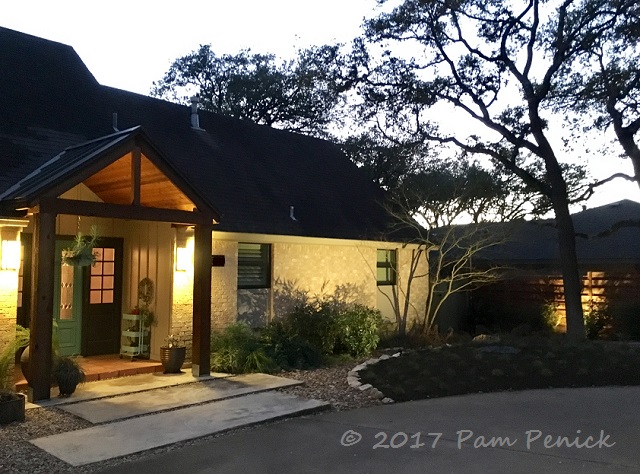 Adjust the angle of the light as necessary to "wash" the wall or highlight a structurally interesting plant.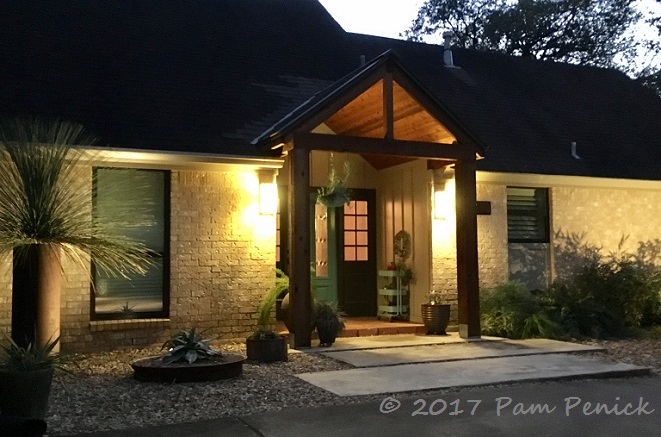 Avoid "hot spot" glare — where you see the bulb — by pointing lights away from pathways, doors, and windows.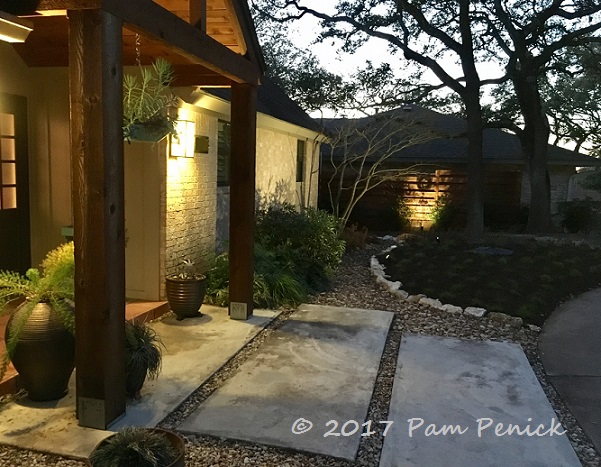 It's better to have too little light than too much. A prison-yard ambience is not what you're after but rather a soft glow pulling certain features into focus.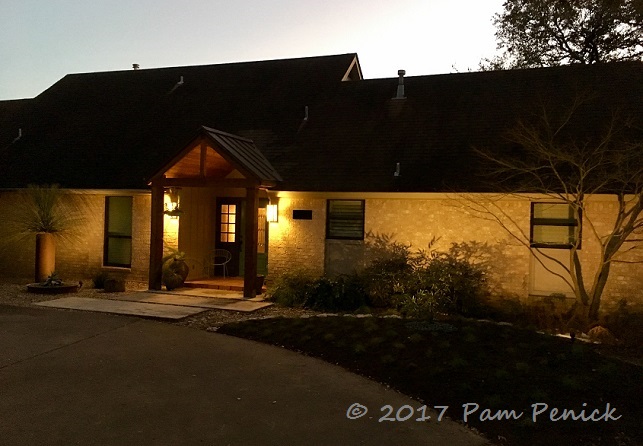 Try it along your foundation to create your own welcoming glow.
I welcome your comments; please scroll to the end of this post to leave one. If you're reading this in a subscription email, click here to visit Digging and find the comment box at the end of each post.
_______________________
Digging Deeper: News and Upcoming Events
2/25/17: Come to my talk at the Wildflower Center. I'll be speaking at the day-long Native Plant Society of Texas Spring Symposium at the Lady Bird Johnson Wildflower Center in Austin. My talk is called "Local Heroes: Designing with Native Plants for Water-Saving Gardens," and it's about creating water-wise home gardens that don't sacrifice beauty. The symposium is open to the public. Click here for registration. I'll be offering signed copies of my books, The Water-Saving Garden and Lawn Gone!, after my talk ($20 each; tax is included). I hope to see you there!
Get on the mailing list for Garden Spark Talks. Inspired by the idea of house concerts — performances in private homes, which support musicians and give a small audience an up-close and personal musical experience — I'm hosting a series of garden talks by design speakers out of my home. The first talk with Scott Ogden has sold out, but join the Garden Spark email list for speaker announcements delivered to your inbox; simply click this link and ask to be added. Subscribers get 24-hour advance notification when tickets go on sale for these limited-attendance events.
All material © 2006-2017 by Pam Penick for Digging. Unauthorized reproduction prohibited.