November 13, 2023
A few weeks ago in Dallas, I met up with Jay of NewTexasGardens at his home garden. It was great to meet a fellow Instagrammer whose photos I admire and who posts interesting content, like measuring the temperature of artificial turf on a hot summer day and comparing it to concrete, mulch, black gravel, and St. Augustine grass. (Surprise! The faux turf measured hotter than all of them.) Jay isn't a purist about it, but he believes in the intrinsic value of growing native plants. He's challenged himself to plant his front yard in a central Dallas neighborhood "almost exclusively with natives…but to maintain a tidy, almost minimal look."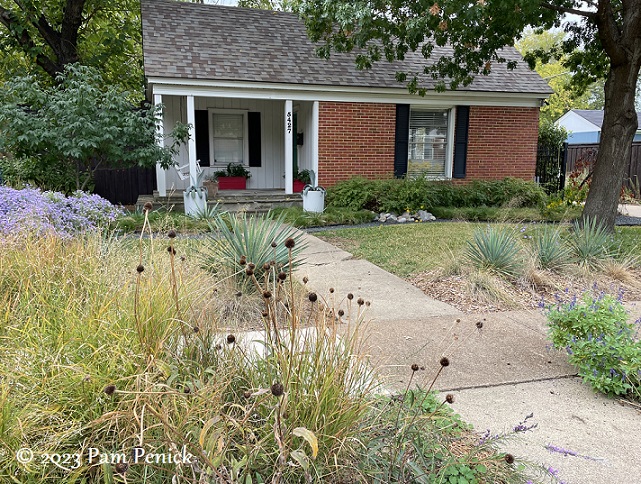 And it looks great! Along the sunny side of the yard, 'Shenandoah' switchgrass, coneflowers (gone to seed), and 'Raydon's Favorite' fall aster add color and movement, as well as food for pollinators and seed-eating birds.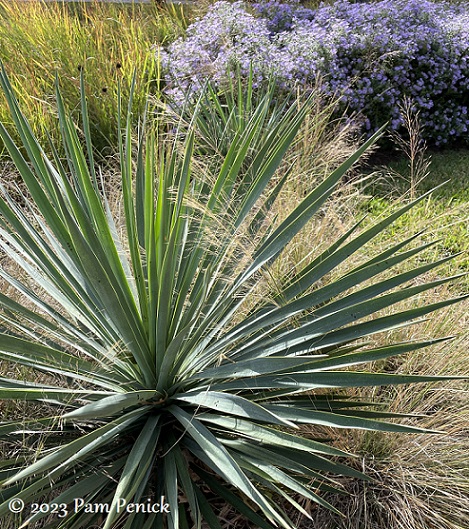 Yucca pallida stays small while providing evergreen structure and a starburst shape that contrasts with billowing grasses and asters.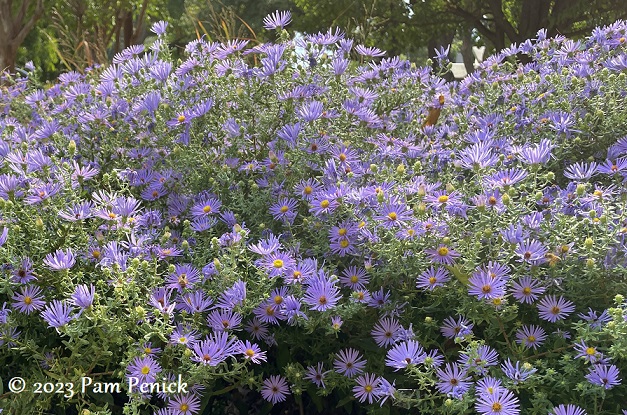 'Raydon's Favorite' fall aster in full bloom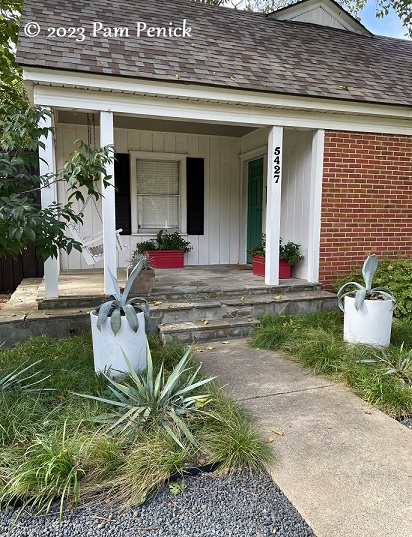 By the front porch, Webberville sedge (Carex perdentata, also called meadow sedge) makes a soft groundcover that can handle bright shade. Twin potted Agave scabra frame the front steps.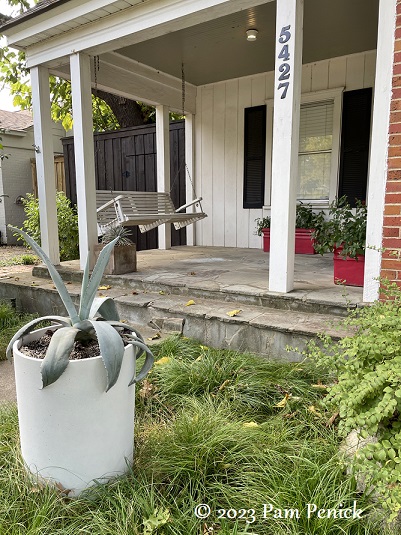 The agaves are not winter hardy in Dallas, Jay points out. He says he meant to buy Agave americana but picked these up by mistake. Since both species are cold tender in pots, I wonder if it might work to pull a few pups during the summer and over-winter those for replanting each spring. That would keep them at a reasonable size too. Alternatively, a small yucca like pallida, rupicola, or 'Bright Edge' would be an option, having a better cold tolerance than agaves. I'll be interested to see what Jay decides, come winter.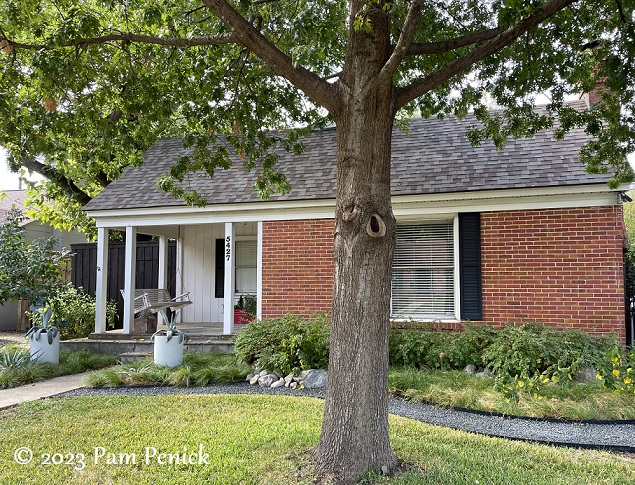 A gentle S-curve path defines the shady foundation bed. Here, Jay is growing coralberry (Symphoricarpos orbiculatus) as a low hedge — an inspired choice! — with a few Turk's caps, flowering bulbs (I think), and Webberville sedge.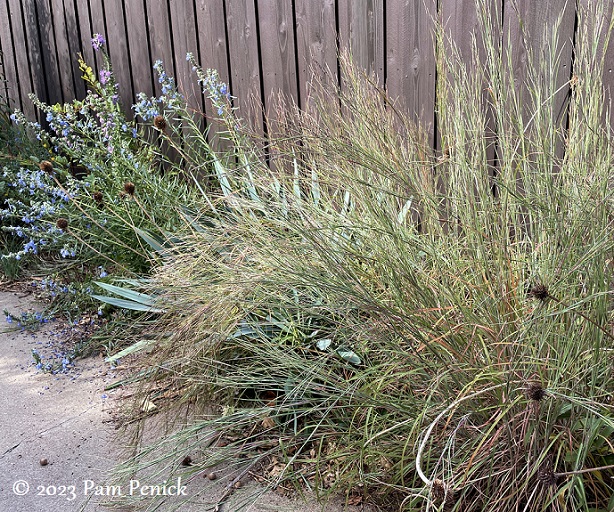 In the challenging, skinny strip between the driveway and fence, Jay has a mini-meadow of little bluestem (Schizachyrium scoparium), pale purple coneflower (Echinacea pallida), paleleaf yucca (Yucca pallida), pitcher sage (Salvia azurea), and tall liatris (Liatris aspera).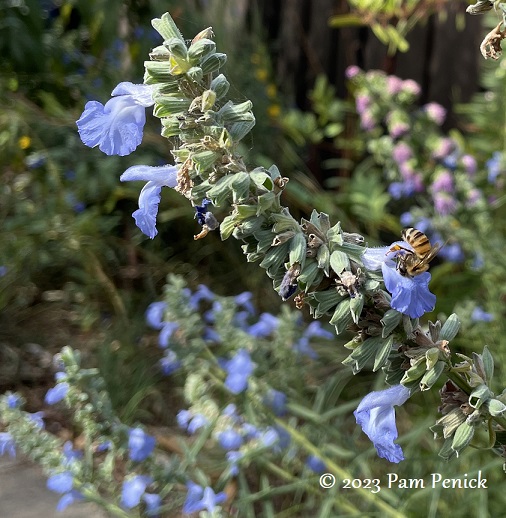 The bees were going for the sky-blue pitcher sage.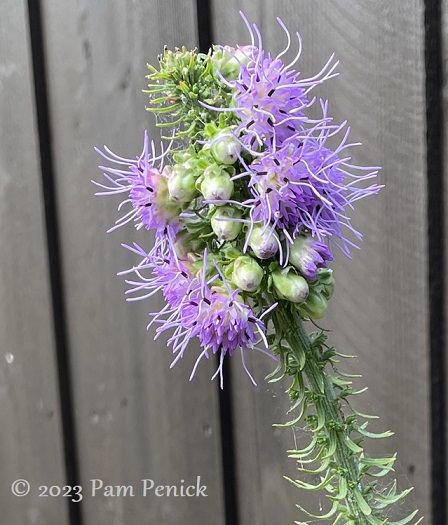 Liatris aspera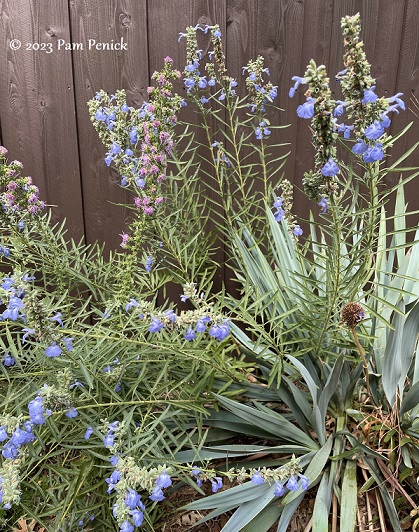 Muscling it out for space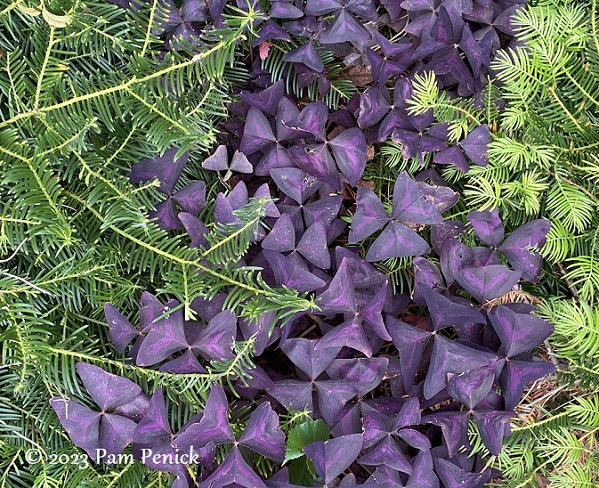 In back, Jay is pondering a redesign using more natives, but I had to admire this nonnative shade combo of prostrate Japanese plum yew and purple oxalis.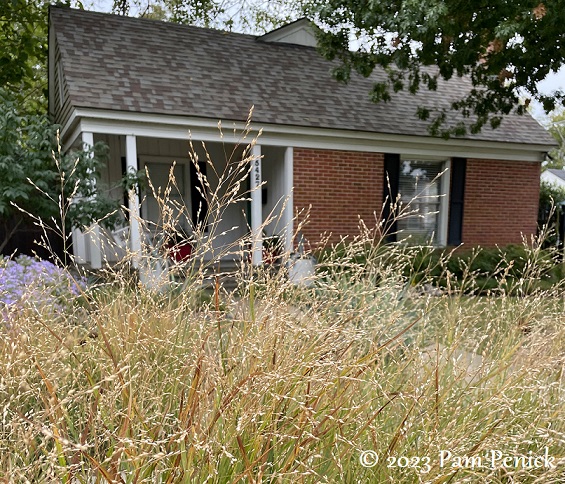 One last look at the fizzy flower spikes of 'Shenandoah' switchgrass. Thanks for the tour, Jay!
I welcome your comments. Please scroll to the end of this post to leave one. If you're reading in an email, click here to visit Digging and find the comment box at the end of each post. And hey, did someone forward this email to you, and you want to subscribe? Click here to get Digging delivered directly to your inbox!
__________________________
Digging Deeper
Come learn about garden design from the experts at Garden Spark! I organize in-person talks by inspiring designers, landscape architects, and authors a few times a year in Austin. These are limited-attendance events that sell out quickly, so join the Garden Spark email list to be notified in advance; simply click this link and ask to be added. The Season 7 lineup can be found here.
All material © 2023 by Pam Penick for Digging. Unauthorized reproduction prohibited.