March 03, 2017

Spring fever has hit! For me, that manifests as refreshing my many pots of succulents, some of which have been inside all winter, others huddled against the house, and others (too big to move) left to weather as they will. If they took a winter hit, I'm not afraid to rip them out and start over. After all, succulents last a long growing season here in Austin, and it's worth it to buy a few new 4-inch pots each spring to freshen up winter-weary containers.
Even more fun, I've been creating new containers with cuttings from winter-hardy succulents that needed a trim, tucking in a few new plants and decorative accents. Kitschy, fairy-garden flamingos stalking through a succulent jungle? Heck, yeah!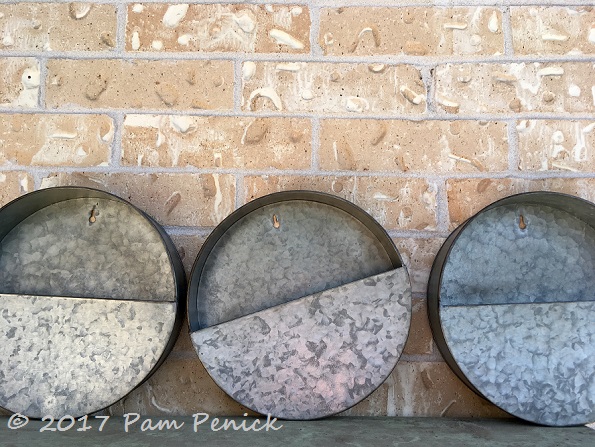 But let's start with the planter. I found three galvanized wall planters at Target a couple of weeks ago, lying forlornly on a back-corner shelf before all the other spring garden stuff came out for display. I'd seen these online and coveted them, but they weren't available for shipping, and Target's website indicated there were only a few left in stock at various stores. So I wasn't expecting to find them, but then I did! At only $8.99 each, I snapped up all three. (And no, I'm not getting paid to promote these. I just like them.) They look like deep-dish pizza pans to me.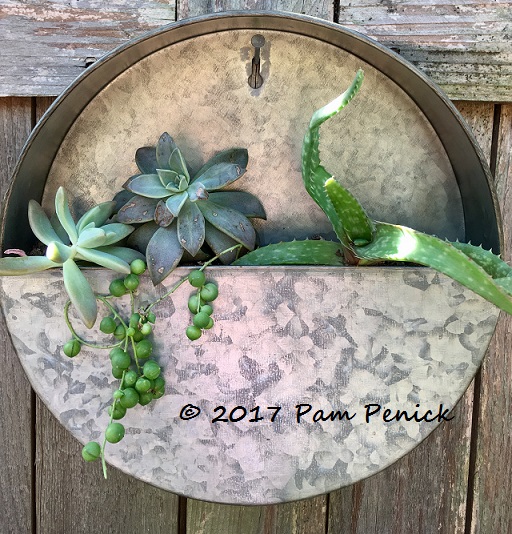 The pots didn't have drainage holes, so I used a hammer and nail to punch a few holes in the bottom of each one. Then I filled them up with cactus/succulent potting soil (you can buy it by the bag at most nurseries), tucked in a few cuttings from my succulents (let them harden off a few days after you cut them, before planting, to avoid rot), topped them with a thin layer of small gravel, and voila! So. Easy.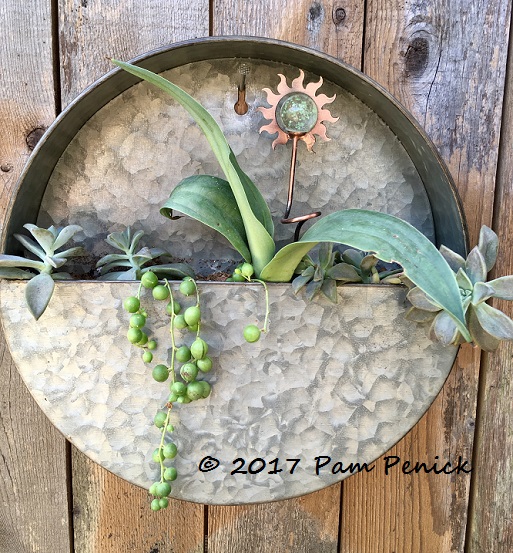 The copper-and-glass sun and the flamingos came from The Natural Gardener's gift shop. Anything can work for an artful or playful accent, though. Maybe a plastic dinosaur? A small Buddha figurine? A vertical piece of driftwood?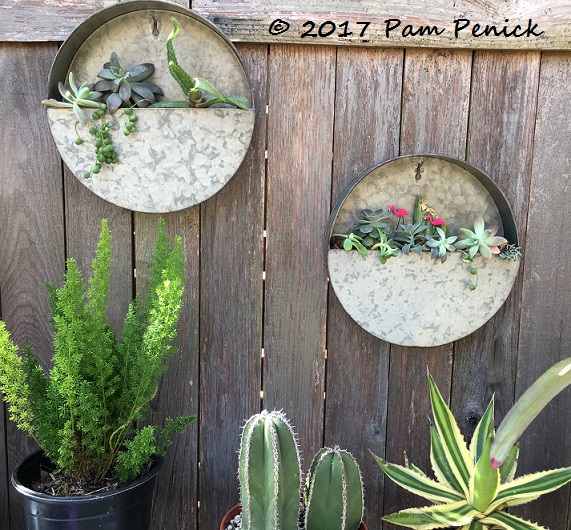 Succulents can easily be pulled out and refreshed with new cuttings when they grow too big or get leggy. In our hot climate, be sure to place them in dappled shade or morning sun only. Afternoon sun can fry them.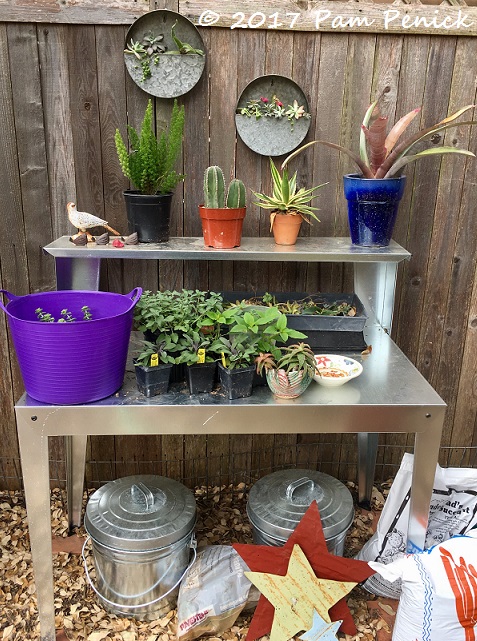 Here's where I hung them, over my new galvanized potting bench, also from Target, which I assembled and placed in my side yard. After years of potting over a low table, I'm loving having this taller potting station, and my back is thanking me too. I've stashed potting supplies in a couple of galvanized pails with lids, and I'll be rotating plants and pots through here all spring.
In fact, I'm going outside right now to do a few more pot refreshers. Spring feverrrrrr!
I welcome your comments; please scroll to the end of this post to leave one. If you're reading this in a subscription email, click here to visit Digging and find the comment box at the end of each post.
_______________________
Digging Deeper: News and Upcoming Events
Get on the mailing list for Garden Spark Talks. Inspired by the idea of house concerts — performances in private homes, which support musicians and give a small audience an up-close and personal musical experience — I'm hosting a series of garden talks by design speakers out of my home. The upcoming talk with James deGrey David has sold out, but join the Garden Spark email list for speaker announcements delivered to your inbox; simply click this link and ask to be added. Subscribers get advance notification when tickets go on sale for these limited-attendance events.
All material © 2006-2017 by Pam Penick for Digging. Unauthorized reproduction prohibited.