January 05, 2018

We've just recovered from a bad case of winter here in Austin. From New Year's Eve through Wednesday, a long deep freeze — by Central Texas standards, anyway — had us huddling by the fireplace night after night. Lows in the mid-20s rose only to around freezing during the day. Unbelievably, for the 2nd time in a month, it snowed briefly on New Year's Eve.
As I write this, a "bomb cyclone" of snowpocalypsity is happening on the East Coast, so I don't expect sympathy about our little taste of winter. But as I uncovered my cold-tender plants yesterday, which lay under sheets, blankets, and upturned buckets for 5 shivery days, I thought it would be helpful to share how my garden fared — the good and the bad. If you're new to gardening in Central Texas, you may find this helpful in deciding what to protect when Old Man Winter returns. (I took these pictures yesterday; I forgot to update the 2017 watermark.)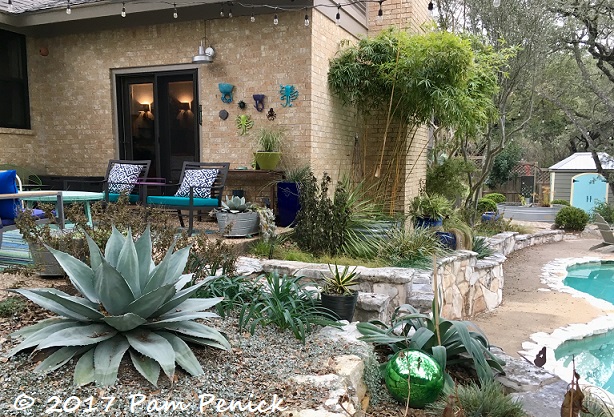 But first, to state the obvious, you don't have to cover anything when it freezes here except your exterior faucets. If you plant native plants and other hardy plants, they'll handle freezing temps in stride. Covering only comes into play when you've pushed your luck by planting semi-hardy plants (there are so many wonderful ones!) or you want to extend the "green" season rather than letting plants die back to the roots and go dormant until next spring. Since my garden will be on a private tour next spring, I covered more plants than I normally would in order to keep them from dying back and risk not having them fully regrow by early May.
Also, covering helps but isn't foolproof, and other factors matter too: whether a plant is near a heat-holding surface like a brick wall or stone patio; whether it's in the ground (insulated) or in a pot (vulnerable to cold); whether it's cold and wet (deadly for tender succulents) or just cold; and whether your garden enjoys a warmer or colder location (hilltops and in-town are warmer; low spots and away from the city are colder). Blankets and sheets should be anchored so they don't flap around when the cold front blows in and should cover the plant completely to hold the soil's warmth. You can also use overturned trash bins and buckets to protect plants.
During our cold snap, I noticed that some people make a big effort to cover plants that don't need protection, like yuccas. So accompanying my pics of my own post-freeze plants, here are my recommendations about protecting plants from hard freezes. Again, this is just for the Austin area, and your mileage may vary.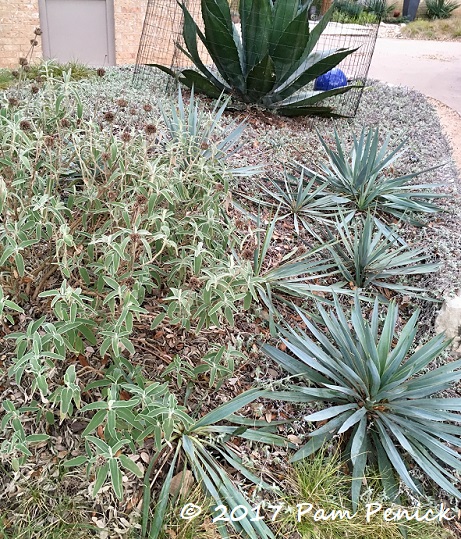 Yuccas, sotols, and nolinas are generally winter tough. Don't waste your time covering these. Pictured here is paleleaf yucca (Yucca pallida), a native plant and totally winter hardy.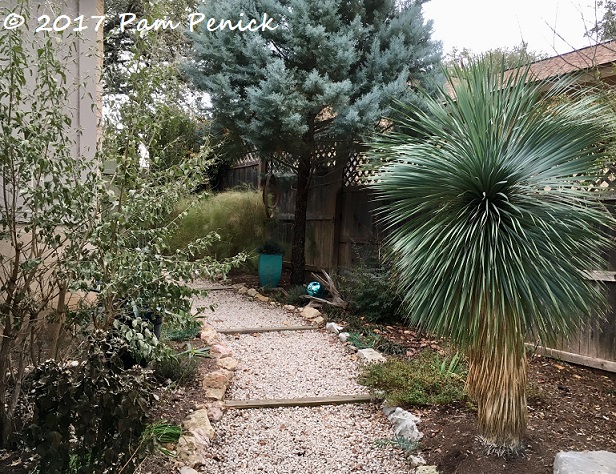 Yucca rostrata is also a winter stalwart. Don't bother wrapping it up like a lollipop.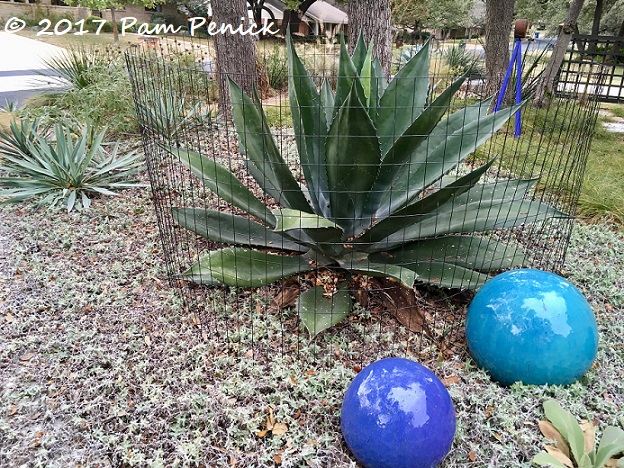 Agaves are trickier. Some are winter hardy, like 'Green Goblet' pictured here (its winter cage is to protect it from deer antlering), some may survive with damage, and some are not freeze hardy. Know your agaves, and protect those that need it. I grow a few small, non-hardy agaves in pots so that I can bring them inside during freezes. Big ones in the landscape need to be hardy: whale's tongue, 'Quadricolor', squid agave, artichoke agave, A. lophantha, ferox agave, etc. American agave, the big blue or yellow-and-green-striped variety, is commonly found in Austin too, though it's only semi-hardy; it usually survives periods of deep cold but with some damage.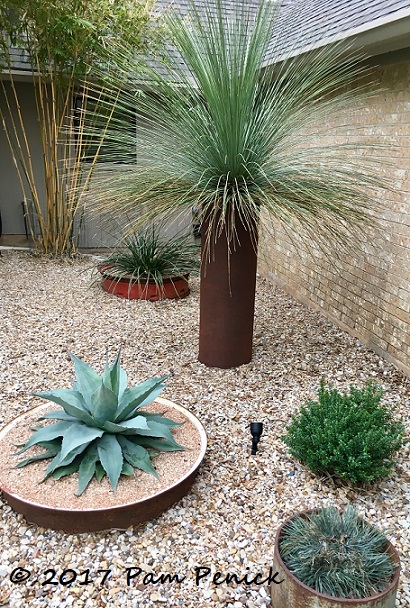 Whale's tongue agave (Agave ovatifolia), at left, is winter hardy. But do make sure it and other dry-loving plants like yuccas have excellent drainage when you plant them. Even cold-hardy succulents can rot in winter if they're parked in damp soil.
Sotols, like the toothless sotol (Dasylirion longissimum) in the steel pipe planter, are hardy. So are hesperaloes like giant hesperaloe (Hesperaloe funifera) and red yucca (Hesperaloe parviflora), pictured at back in the red planter.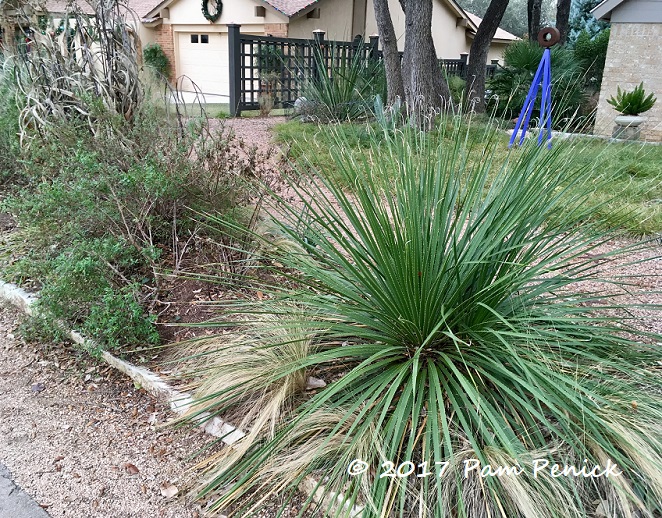 Texas sotol (Dasylirion texana) is totally hardy.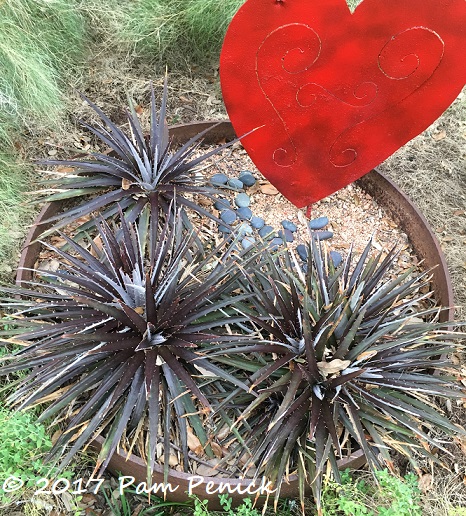 Dyckias are a bit iffier. I grow only those dyckias that I've found to be tolerant of occasional temps in the 20s, like 'Frazzle Dazzle' and 'Burgundy Ice', pictured here, and I cover them during hard freezes just to be safe.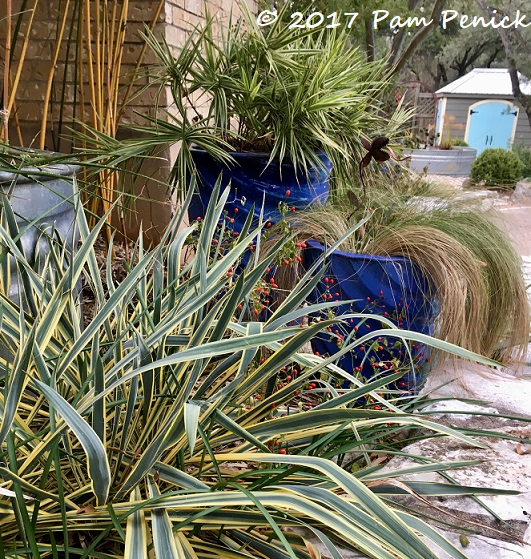 Yuccas are tough enough for our summers and winters. Some, like 'Bright Edge' yucca, have colors that intensify in cold weather.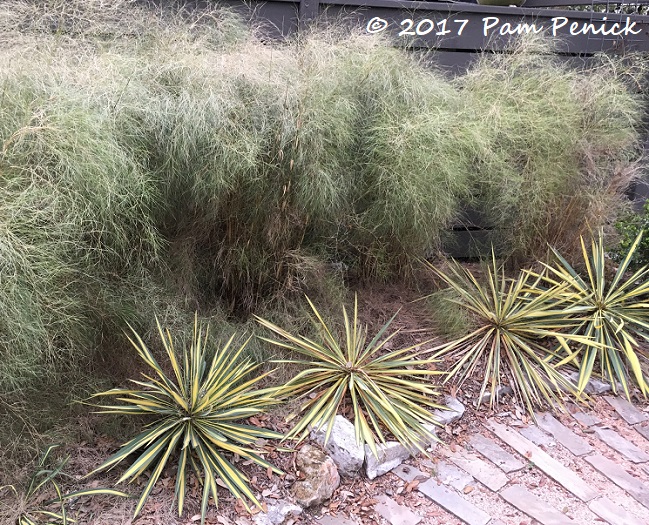 'Color Guard' yucca takes winter in stride too. But notice the bamboo muhly grass (Muhlenbergia dumosa) behind it — sad and straw-like after temps in the 20s. It'll live but will take months to recover. Don't cut back the bleached foliage until well into spring. Some stems will sprout new green leaves in spring, and until then it helps protect the roots.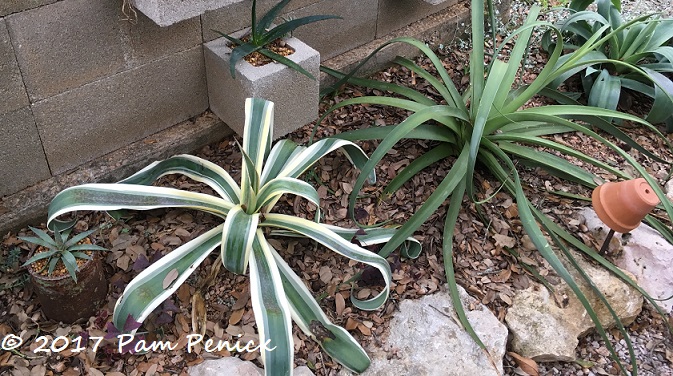 How about mangaves, agave-like succulents that are a cross between agave and manfreda? They can be harmed by a strong cold snap, so protect them. This is 'Espresso' mangave, a variegated version of 'Macho Mocha'. I covered it, plus it's planted against a heat-holding wall and under a tree, and it came through in good shape. It may lose one leaf, which feels kind of soft and mushy, but I'll have to wait and see.
The squid agave beside it is totally fine.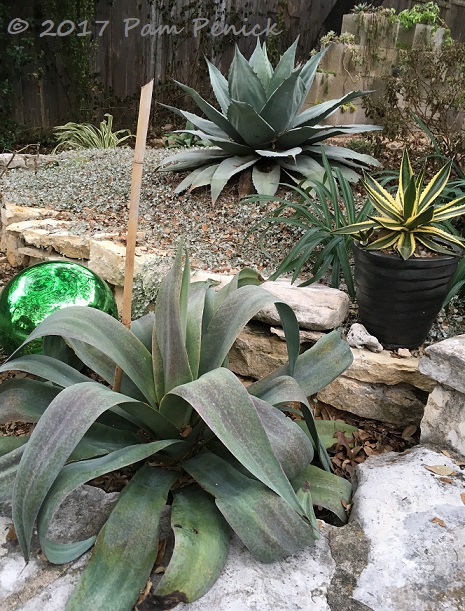 Here's 'Macho Mocha' mangave, which I covered by draping a sheet over a bamboo pole stuck in the ground, which keeps the fragile leaves from breaking if there's ice. It looks to be in good shape. The 'Quadricolor' agave in the pot and the whale's tongue agave are fine too, with no protection.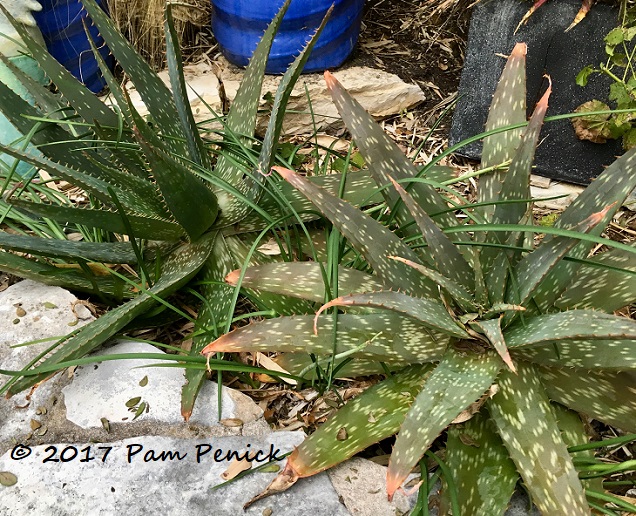 Aloes, like dyckias, can be dicey in a deep freeze. I covered three big soap aloes (Aloe maculata) growing in a raised bed against the back of the house, and the two that were closest to the house look good, with intensified coloring from the cold, while the third (at left) is soft: when I pinch the leaves, they feel a bit mushy instead of firm. That's not a good sign, and I'll probably lose that one. (Update: it lived!) In any case, I'll wait until spring to remove it, as its damaged leaves will continue to protect the roots and any pups (baby aloes) that can be replanted to replace it.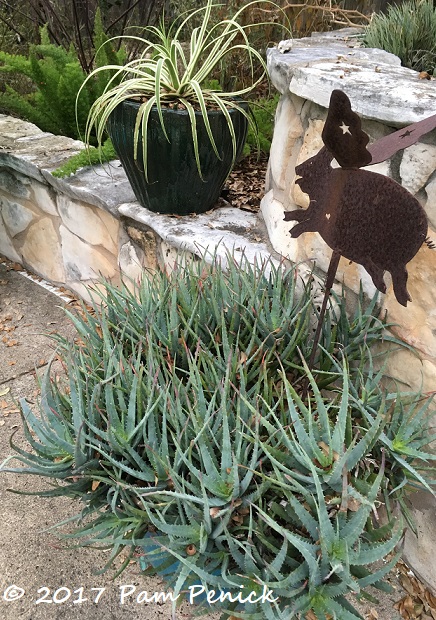 'Blue Elf' aloe, in the foreground, needs protection from hard freezes too, especially later in winter, when it starts sending up bloom spikes. The variegated squid agave 'Monterrey Frost' behind it would probably be fine without protection, but I adore this plant and covered it just to be sure. Ice might break its fragile, arching leaves, so I put stakes in the ground next to it and draped a sheet over those.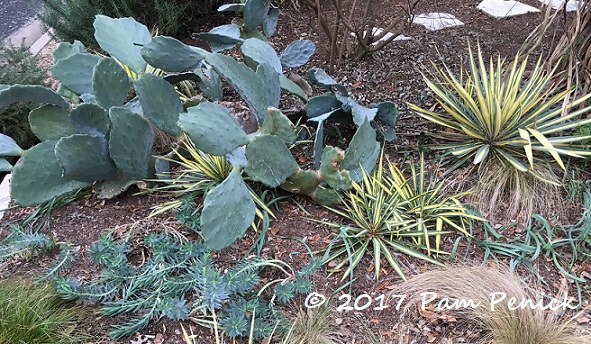 Cactus is variable, even among the prickly pear family. Opuntia 'Ellisiana' (not pictured) can handle the cold. Opuntia 'Old Mexico', pictured here, can too, although it tends to flop over in dismay. It should recover quickly when spring returns, and I'll cut off any pads that stay flopped. Those can be replanted or given away.
Golden barrel cactus should be protected from hard freezes, and I keep mine in a pot and bring it indoors. Plenty of Austinites plant them in the ground though, and most of the time they survive, although you can lose them if it's cold and wet. Other hardy varieties include horse crippler and lace cactus.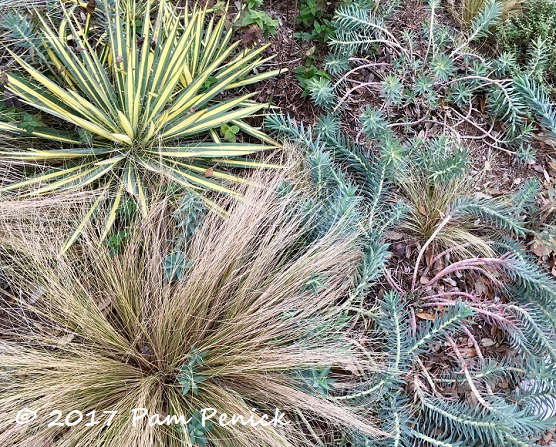 Gopher plant (Euphorbia rigida), at right, will survive with no protection, although it may flop in protest. Native grasses like pine muhly and Mexican feathergrass (lower left) need no fussing whatsoever.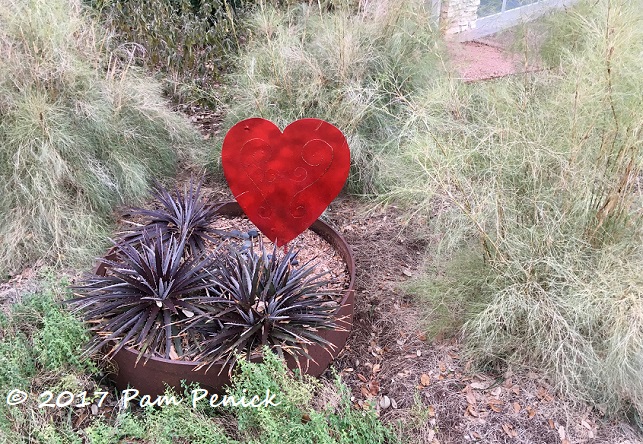 Bamboo muhly, however, gets bleached out in the 20s. I don't cover it because it's big and I have so much of it. It'll survive but will take months to recover. See my comments above about when to prune it.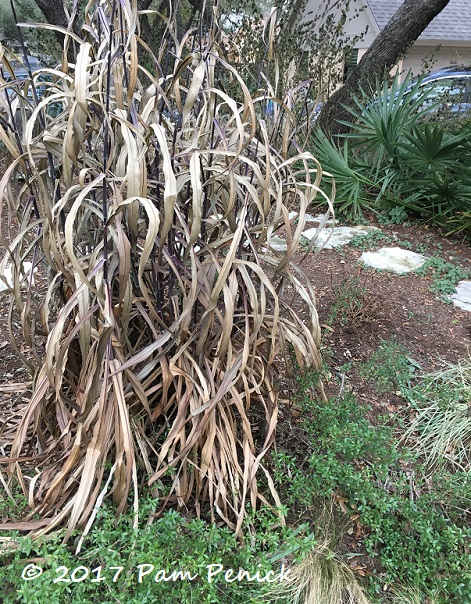 'Vertigo' pennisetum grass is bleached, but it'll survive. I leave the dead leaves so they can protect the roots and then prune the whole thing to the ground in late February or early March. (It usually benefits from a division then too; dig it up, saw the root ball in half, and replant half. Plant the other half somewhere else or give it away.)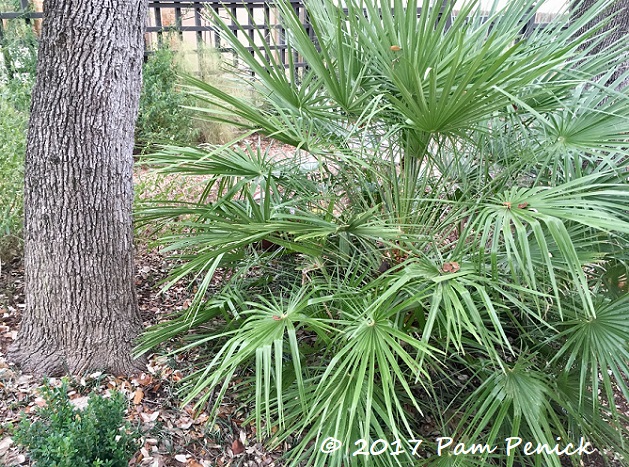 As for palms, I'm familiar with only two kinds, and both are winter hardy: Mediterranean fan palm, pictured here…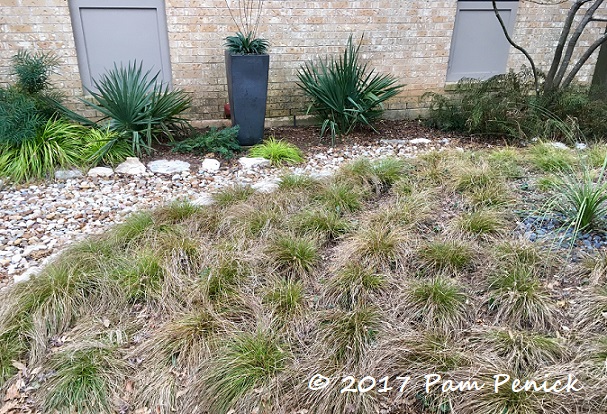 …and our native dwarf palmetto (Sabal minor), pictured in the foundation bed. No need to cover either.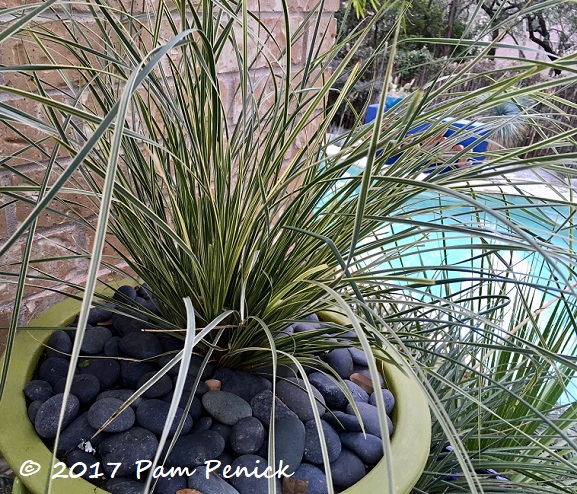 I'm trialing from Southern Living Plants three 'Platinum Beauty' lomandra, grass-like plants native to Australia. One is in a pot, and the other two are in the ground. I covered all three, and they seem to be doing fine. Update: The two in the ground are bleached and dead-looking, but there is a tiny bit of green visible at the base. Not sure if they'll recover or not. The lomandra in the pot was up against the house, plus I covered it, and it's fine.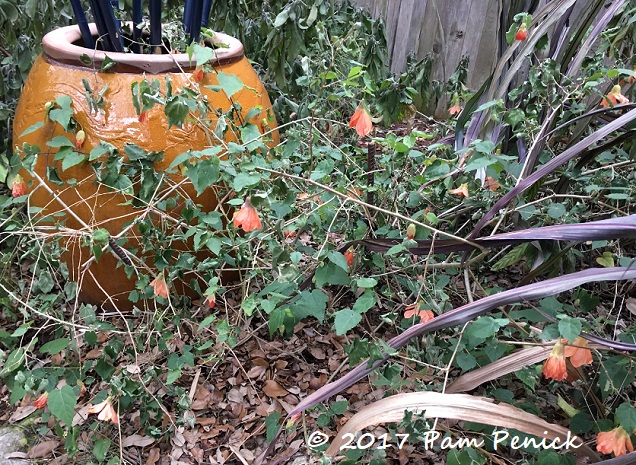 Abutilon takes deep cold with mixed results, in my experience. Abutilon palmeri, aka Indian mallow, should be considered an annual here; a hard freeze will kill it. This is 'Bartley Schwarz', and it does fine with no protection. Other varieties I grow that I consider marginally hardy include an unnamed pink one from Barton Springs Nursery, variegated 'Souvenir de Bonn', and 'Nabob'. I don't cover any of them — it's survival of the fittest. The nice thing is they'll often bloom even in winter.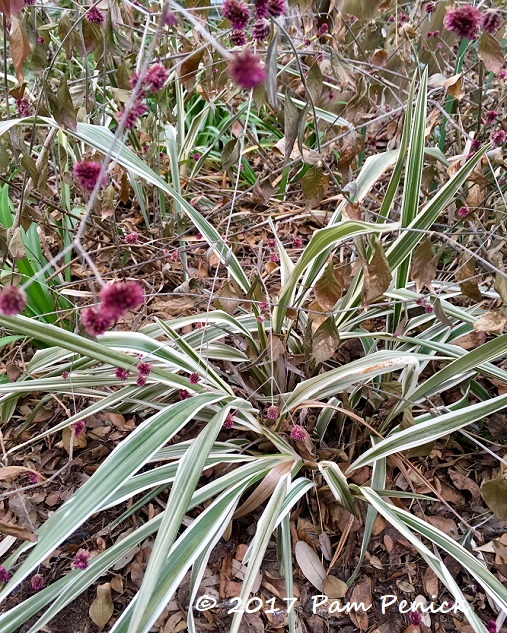 One plant I depend on in my dry-shade, deer-infested garden is variegated flax lily, or dianella (Dianella tasmanica 'Variegata'). It doesn't like 20-degree weather any better than most Austinites, turning straw like and dying back to the roots — or maybe altogether. I covered as much of it as I could, but this clump was unprotected, with typical results. The shriveled appearance will only worsen in coming days, I expect.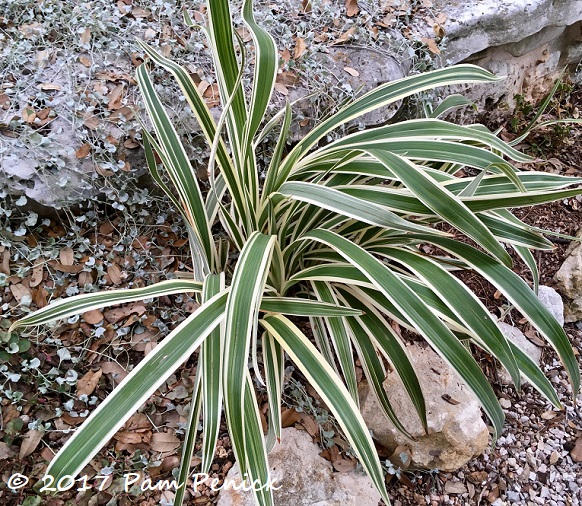 I tucked heavy blankets across two swaths of dianella in the front garden, and they look like they just enjoyed a holiday in the Caribbean. The same with this one, which I covered with a pot in the back garden.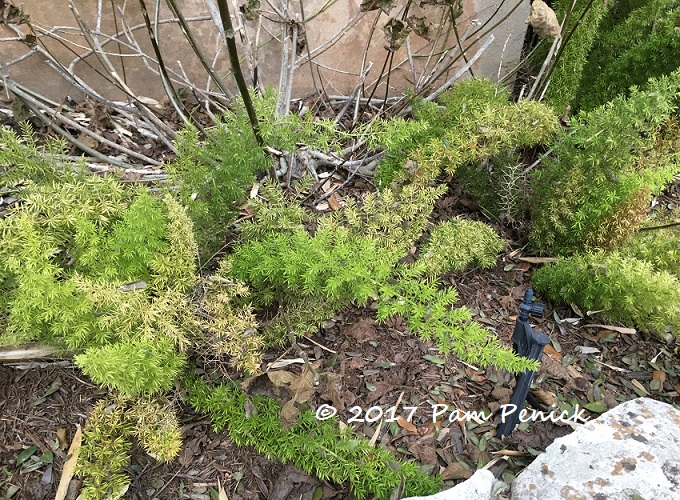 Foxtail fern (Asparagus meyeri) is another exotic that I rely on for success in dry shade and with deer. It also hates the cold and can be bleached or even killed by severe freezes. I covered as many as I could but missed these two. They suffered frost burn but should recover.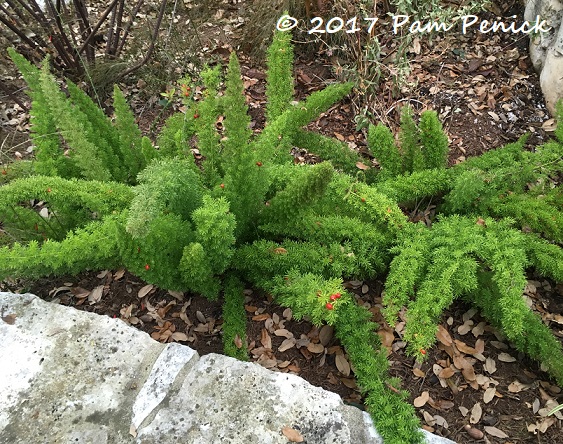 I threw a sheet over these, and they look like they just got home from that Caribbean cruise too. Good as new!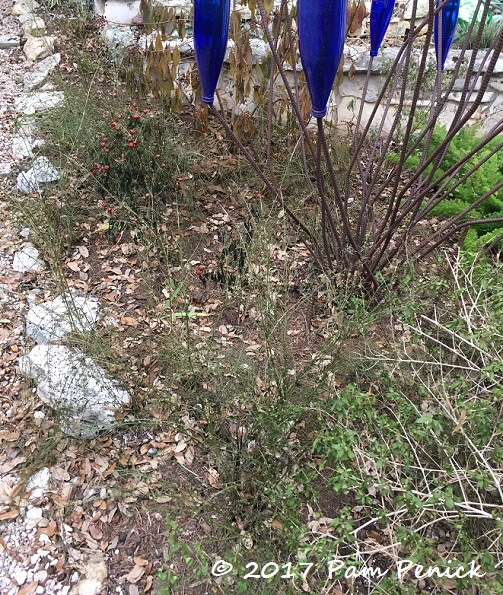 Firecracker fern (Russelia equisetiformis) hates cold and goes dormant but returns in spring. It sure looks sad for now, though.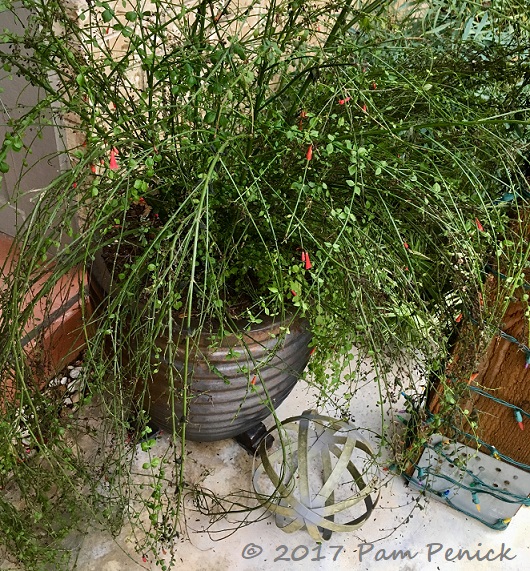 I protected a firecracker fern I'm growing in a pot on the porch, and it made a big difference.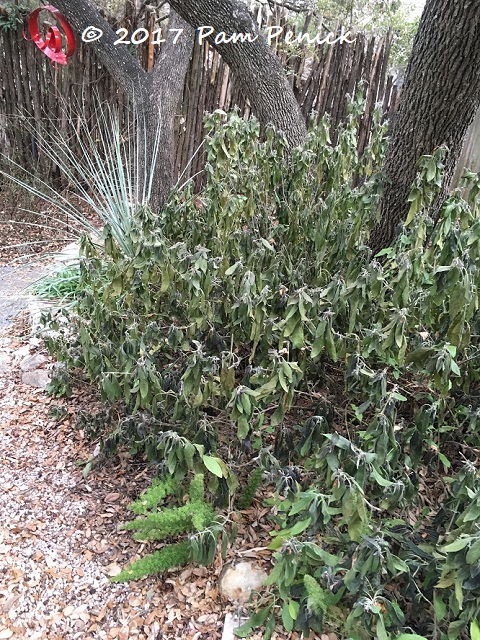 Mexican honeysuckle (Justicia spicigera) is so pretty all winter if we don't get temps in the 20s. So much for that! Like last year, it'll die to the ground but will return in spring. I'll leave it standing, along with all my freeze-dried perennials, until around Valentine's Day, when I do the big pre-spring cut-back.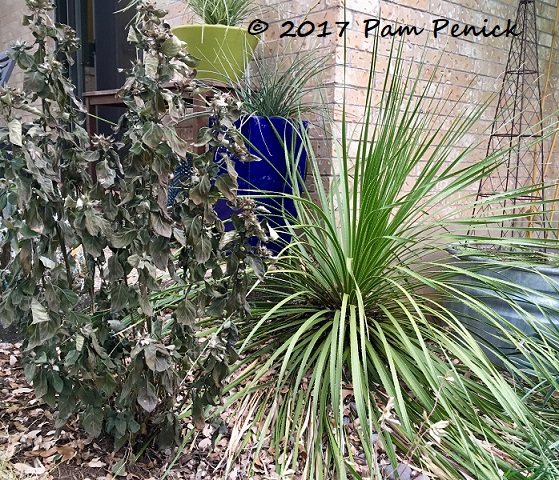 Same with Philippine violet (Barleria cristata) — no protection, and it died back but will return. Notice the evergreen Texas sotol, a native beauty, looking like What winter? beside it.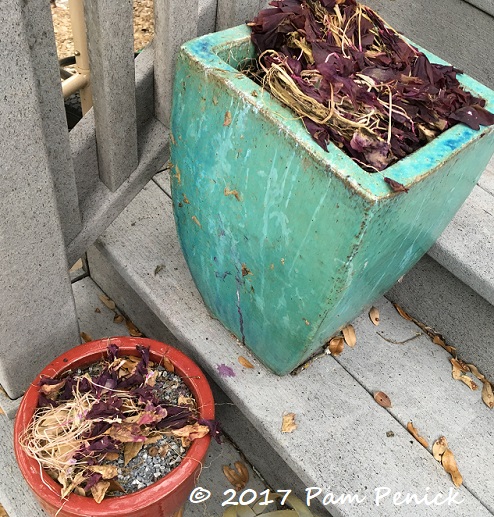 Purple oxalis (Oxalis triangularis) is small enough that it would be easy to cover, if you're so inclined. I didn't, it died back, and it'll come back in spring.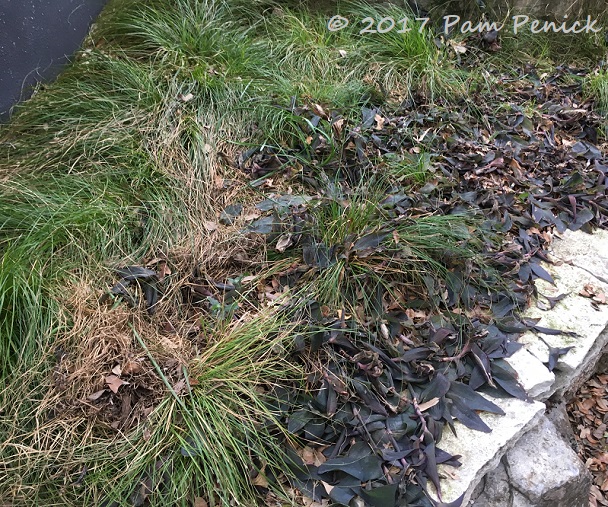 Purple heart dies back messily, but you cannot kill this plant for good. It'll be back in early spring. The 'Scott's Turf' sedge needs a haircut to neaten it up. I'll give it one with a trimmer in early spring.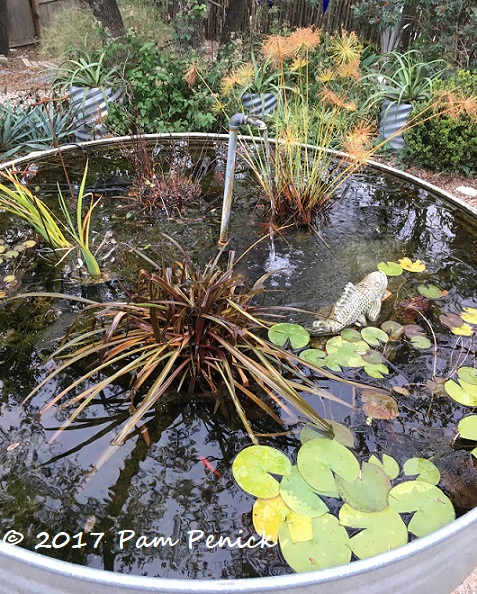 Pond plants can be vulnerable too. When a hard freeze is predicted, I drop the dwarf papyrus and the burgundy crinum to the bottom of the pond and just leave them there until it warms up. The pond was iced over for days (see picture at the top of this post), but no matter. They stayed snug and warm(ish) at the bottom of the pond. I don't worry about the hardy water lilies. They usually die back partly or all the way, and they'll come back in spring. See my post about winterizing a stock-tank pond for more info.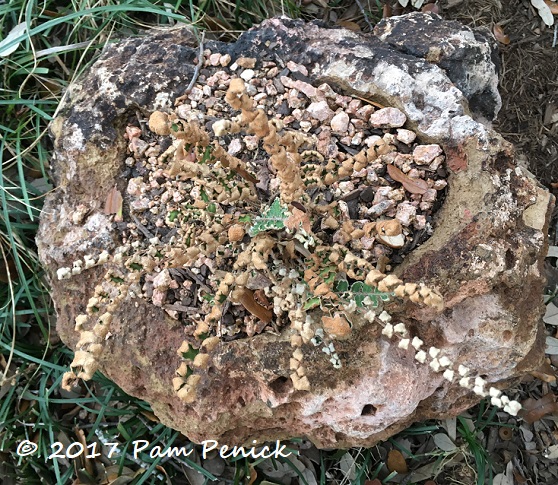 Ferns like our native river fern (Thelypteris kunthii) will die back, but they'll come back in spring. I added this native wavy scaly cloakfern (Astrolepis sinuata) to my garden last fall, and it didn't make the cover-up list. For now, it looks pretty sad, but alive.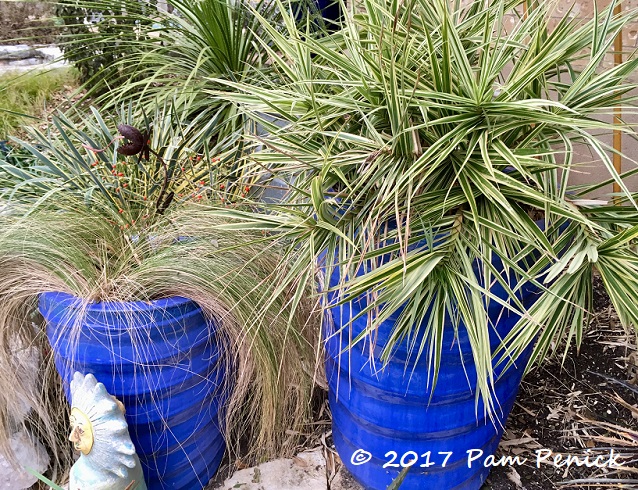 One plant that continues to impress me with its performance, no matter the weather, is 'Sparkler' sedge. It's wonderful for shade, even dry shade, and handles heat and cold with ease, even in a pot. No protection is needed, aside from shade from the Death Star.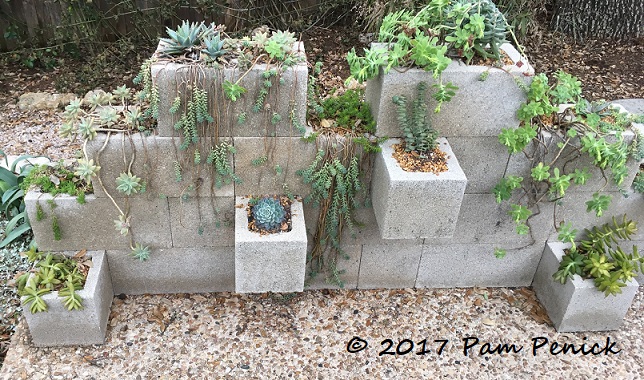 Succulents in my cinderblock wall always get covered by a sheet when there's a freeze, and with the reflected heat from the patio and a live oak overhead, they generally fare quite well. It helps that I've winnowed them down to the hardiest varieties over the years, like ghost plant (Graptopetalum paraguayense), various sedums ('Coppertone', 'Blue Spruce', 'Dragon's Blood'), and an occasional echeveria (although these have more trouble with our summers, I've found). If any don't survive, they're easy to replace in spring.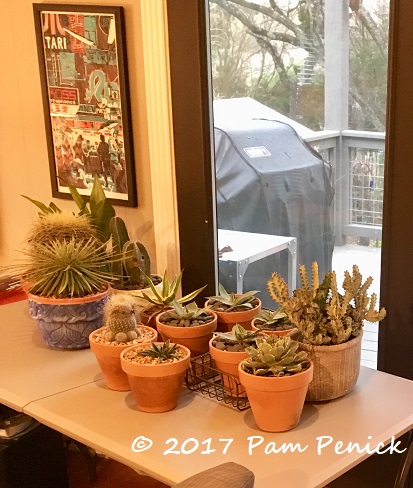 My most cold-tender succulents are grown in pots, and I bring them indoors…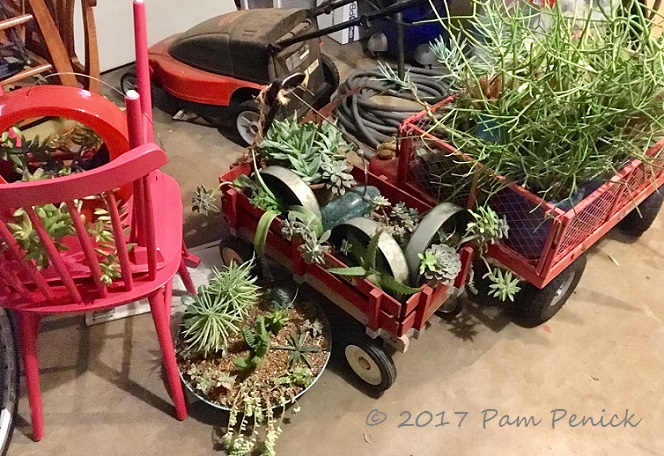 …or into the garage during hard freezes. Stuffing them cheek by jowl into two wagons helps with moving them in and out throughout the winter. Lucky gardeners who have greenhouses for such plants!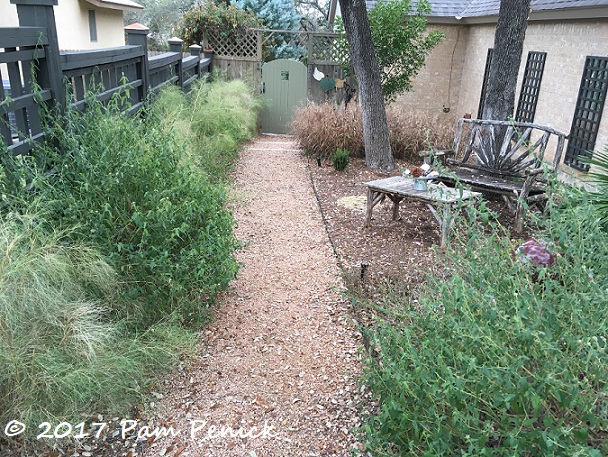 It's a lot of work to cover plants for a hard freeze, and I don't recommend getting sucked too deeply into it. Plant mostly hardy plants unless you're a rabid collector who doesn't mind pampering her babies, or make peace with the occasional winter's reaping. When hardy perennials get freeze-dried, leave them standing until mid- to late February so they can shelter the creatures who share your garden, as well as their own roots, and so their seeds can provide food for birds. It's only another month and a half, and then you can whack them back to your heart's content.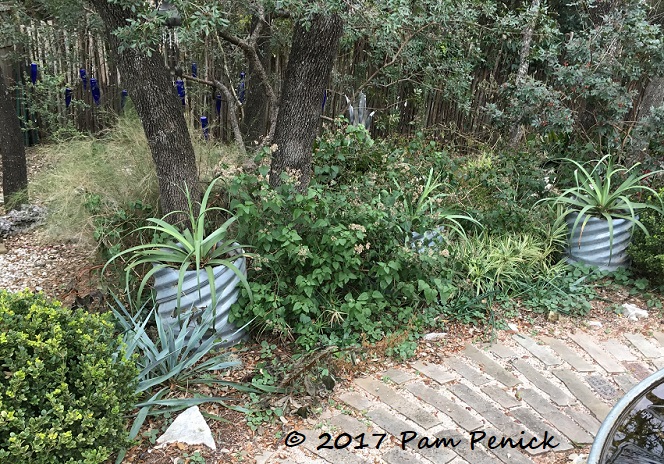 After all, spring will be showing its first green signs by late February and early March.
I welcome your comments; please scroll to the end of this post to leave one. If you're reading this in a subscription email, click here to visit Digging and find the comment box at the end of each post.
_______________________
Digging Deeper: News and Upcoming Events
Calling all garden bloggers! You're invited to register for the annual Garden Bloggers Fling tour and meetup, which will be held in Austin this May 3rd-6th! Click this link for information about registering, and you can see our itinerary here. Space is limited, so don't delay. The 2018 Fling will be the event's 10th anniversary, which started in Austin in 2008.
Join the mailing list for Garden Spark Talks! Inspired by the idea of house concerts, I'm hosting a series of garden talks by inspiring designers and authors out of my home. Talks are limited-attendance events and generally sell out within just a few days, so join the Garden Spark email list for early notifications. Simply click this link and ask to be added.
All material © 2006-2018 by Pam Penick for Digging. Unauthorized reproduction prohibited.